Goal Zero Yeti 500x
$699.95
Pros
High-quality BMS with LG battery cells
Tough exterior, compact, and light
High max input (180W) capacity
Leading 1200W surge with Pure-Sine Wave
Industry leader & Safety record
Cons
High price
Continuous 300W (not 500W)
Slightly heavier than competition
Long auto-shutoff timer
Battery not replaceable
Read:
16
mins.
Introduction
My friends, coworkers, and family had asked for advice on portable battery stations, gas generators, and solar panels for a variety of reasons over the past, few years. Some were for emergency preparation, outdoor recreation, or simple convenience while on the go. We did not know much at first, but learned a lot as as we looked at a slew of products, ESPECIALLY during last year's devastating wild fires across the US and Canadian west coast. Then came the COVID-19 pandemic that caused much panic. At the same time, sales for gas generators, battery power stations, and solar panels had seen an uptick in demand for emergencies.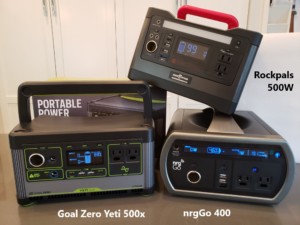 The ability to charge or power electronics, medical devices, and even televisions has become crucial or highly desired, and as a result, I have had the opportunity to test and review some of my friends' and family's purchases. They ranged from $50 batteries to $1,000 power stations, and each time, we learned more about what made them good and bad. But, there was one brand we all had avoided: Goal Zero, the industry leader in the battery station category. They are EXPENSIVE and did not look like they would provide a better choice when cheaper alternatives from the likes of Jackery, Rockpals, and nrgGo were available.
There has been an increase in people taking emergency preparation more seriously.
Recently, I had purchased a beefy Jackery Explorer 1000 for a "just-in-case" scenario. It was surprisingly light for a product that is capable of providing so much power. But then I wondered: why is Goal Zero the leader? They recently released their very cool-looking Yeti 500x, and I decided to take the plunge and get one. What I learned over the past 5 weeks was surprising.
In A Nutshell
The Goal Zero Yeti 500x really surprised me as the successor to the Yeti 400 Lithium. Pricing aside, I came to appreciate the design and engineering that went into it. It is a beautiful, tough (and tough-looking), relatively lightweight power station that dethroned my former 500Wh favorite for its compact size: the Rockpals 500W.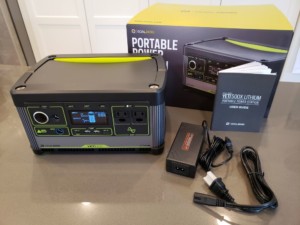 The Yeti 500x somehow manages to be even smaller while staying true to the company's infamous safety mantra: top-tier LG battery cells, high-quality Battery Management System, Pure-Sine Wave AC output for sensitive electronics, and unmatched 1200W surge output. Marry that with a healthy, extensive ecosystem of products and accessories, and you can scale out the system as large or small as needed for a variety of uses. The 8mm 120W (front OR back) and USB-C PD 60W ports can be used at the same time with the MPPT solar controller to charge the Yeti even faster at 180W. Also not well-known in my circle of friends was the 12V cigarette car charger (Goal Zero/Amazon) that should deserve much more praise than the company had given because it could regenerate a battery at a whopping 120W in vehicles that support 10A — meaning, this Yeti 500x can be fully charged through the car port in 4.5 hours!
For an industry leader, however, there are some things I do not like, such as the continuous output being set at 300W when competitors in its class are 500W. Goal Zero's products also go for a price premium, yet do not have accessories (like cables) included, reminiscent of Apple's. Perhaps this is to minimize waste of unused parts or to allow for mixing and matching?
Overall, I am in love with the way the power station looks and how compact it is. Some thoughtful design was put into the product with top-notch components, and if GZ had bumped the continuous output to match the competition at 500W, the Yeti 500x — along with the safety reputation the company has been known for — would have been hard to beat.
Tip: A battery power station like this one cannot be used to jump start a car. Instead, I suggest getting a small, portable one specifically made for that, such as my favorite: NOCO Genius Boost Car Jump Starter (Lithium Battery).
[Update 3/24/2021: Even to this day, the Goal Zero Yeti 500x remains one of my favorite power stations.]
What's Good? What's Bad?
Pros
Lithium-ion cells made by LG (a top-notch, Tier 1 battery manufacturer)
Very professional, tough look with a pleasing color scheme

Aluminum exterior helps protect against bumps and battery puncture

Given that Li-Ion batteries become more volatile as capacity increases, this added protection is important
Environmentally friendlier than hard plastic

Vertical, rounded edge grilles provide extra grip, heat dissipation, and act like phone case bumpers

Rounded corners are less likely to shatter than sharp edges

Jackery, Rockpals, Suaoki, and other brands I have tried were made of hard plastic shells that may be more prone to cracking and overheating
Brushless fan (JDH6020S) on each side with front-bottom vent for cooling

MOST compact 505Wh power station I have seen (11.25″ x 7.5″ x 5.8″)

Relatively lightweight at 13 lbs with aluminum exterior

Rockpals 500W: still lighter with its plastic shell at 12.13 lbs
Yeti 400 Lithium: 16.3 lbs

Roughly equivalent to a 136,487 mAh 3.7V power bank (or 46,759 mAh 10.8V)
Capacity to power a 30″ LCD monitor and Mini PC for 5-7 hours, a Toshiba 50″ Fire TV for almost 4.5 hours

Pure-Sine Wave AC Inverter capable of continuous 300W power (and unmatched 1,200W peak) — See USAGE section

Clean power for sensitive electronics
Less heat
Note: Some manufacturers claim to be Pure-Sine when they are actually Modified or Square Waves

High-quality BMS (Battery Management System) for safety

Provides built-in overload, overcharge (automatic stop when the device is full), and short-circuit protection
Regulated Input and Output ports
Can power AC and DC (USB/12V Car adapter) at the same time (as long as they draw less than 300W combined)

Laptop, tablet, phone, light, fan, CPAP medical device, projector, TV, mini refrigerator, speaker, camera, and SOME rice cookers

Faster charging with MPPT controller (Maximum Power Point Tracking). Older Yeti 400 Li uses PWM

Two input options: 120W 8mm port (front OR back) and/or USB-C PD 60W

Both can charge concurrently for 180W total! (Jackery Explorer 500's max is 100W)

Can parallel-connect multiple solar panels for faster charging with a Y-branch cable (not included)

Can be used while charging
USB-C PD is powerful enough to charge a 60W laptop (ie. 13″ MacBook Pro)

Foldable handle with a comfortable, non-slip grip

Top of Yeti 500x is concave to help keep small items from getting lost. Nicely done!

No other tested power station has that, except for the nrgGo 400

Excellent, informative LCD with LED backlight

Total power coming in (via solar panel or AC adapter)
Capacity left (as a percentage)
Total power (AC and DC

combined

) being used

Suaoki G500 (a product I no longer recommend) displays the Wattage

separately

for DC and AC, which I prefer

Estimated hours

When Input > Output, shows time to full
When Output > Input, shows time to empty

Units can be toggled between "Volts" and for Output: "Amps", "Watts", "Watt-hours"

Bottom is well-protected by neon green, non-slip feet
Manual: Unusually detailed with some helpful tips
Great technical support
Good customer service, though I was very impressed by the sizeably positive stories from Jackery's customers
Large ecosystem of accessories and interoperable products (batteries, solar panels, etc.)
2 year warranty
American company founded with humanitarian goals

Hopefully, they will not deviate from the "Don't be evil" mantra like Google famously did
Cons
Continuous output is only 300W when most competitors are 500W

Most people likely do not use more than 300W, but having it this low limits the number of devices you can plug in at the same time

Yeti 500x was capable of sustaining a test 350W output. Although it could do that, going over 300W for long can shorten the battery's life over time

Its BIG advantage over others is the 1200W surge output — See USAGE section

Display, though quite informative, does not show separate power consumption for DC and AC like the Suaoki G500

LCD is unreadable without LED backlight

No QuickCharge 3.0 USB output for rapid charging of compatible devices
60W AC Adapter does not utilize the 8mm input port's full capability of 120W
Could be considered heavy by some due to the use of aluminum housing instead of plastic
No built-in light to illuminate your walking path (or area) or blink "S.O.S.", the international distress signal

Jackery, Rockpals, and some unknown brands have that
I really like Rockpals' LED bar

Automatic shutoff when idle is an unusually long 30 hours

Ensures Yeti does not turn off when a low-powered device (like medical CPAP) is used overnight
Could unexpectedly drain battery from 100% to 40% with nothing connected (because AC inverter uses 7W on its own)
Power buttons can be accidentally turned on/off with a short press (ie. while packing away your camping gear)

Suaoki G500 requires a 2-second press to minimize unintended power on or off
No master button to turn off ALL outputs at the same time

Other auto off times

Multiple fans turn on during high peak and can be too noisy for some
Premium pricing
No cable accessories or carry bag included besides the 57W wall charger (takes 100-240V input, though you can't bring batteries of this capacity on a plane)

Competitors often throw in cables for charging via solar or car cigarette socket, and sometimes a small case to hold them

Cannot be chained to other Yetis to extend capacity (some GZ products, like the Yeti 1500x, can)
Battery not replaceable (some GZ products can)

Leads to landfill/environmental waste. Please recycle responsibly!

Not waterproof. Keep it away from water splashes, rain, and pool!

Lithium and fire or water can cause serious damage or injury!
Ports
All input/output ports are Regulated.
Input
(2) 8mm (1 front, 1 back — but only ONE can be used at a time)

13-22V, max 10A, max 120W

WARNING: Do NOT use a power source/solar panel that exceeds 22V or 10A!

Can be used for solar charging

Use of multiple solar panels

WARNING: Do NOT daisy-chain them in sequence/series as that can output more than 22V combined!
Connect them in PARALLEL instead with a Y branch cable (not included)

Accepts up to 120W

Use a panel that's between 30W – 120W at 18V (with the right Amps to equal 120W)

In not-so-sunny conditions, you may connect multiple in PARALLEL to get closer to 120W

If you attach a 220W solar panel (with 22V x 10A = 220W), it will charge at only 120W
Suaoki G500 takes up to 150W. Rockpals 500W up to 200W

Solar charging tests on a sunny, cloud-less, California Spring day (Note: Efficiency is always lost during solar conversion))

nrgGo 100W with nrgGo's optional 8mm-to-MC4 adapter: Excellent @ 69-84W of input

Cable fits 500x perfectly

Jackery SolarSaga 100W with Jackery's included Anderson-to-8mm cable: Excellent @ 64-87W of input

Cable did not fit 500x's back port, and loosely worked with the front one. For better fit, buy a Goal Zero one

Suaoki 160W with nrgGo's 8mm-to-MC4 adapter: Good @ 109-131W of input

(1) USB-C PD 60W

Both for input/output
Can charge concurrently with the 8mm port for a total of 180W of input
Output
(2) AC with 3 prongs (120V, 60Hz, 2.5A)

Inverter handles a continuous 300W, peaking at an unmatched 1200W! — See USAGE section
Note: Uses 7W with nothing plugged in

(1) Cigarette socket (12V, max 10A, max 120W)
(1) 6mm (12V, max 10A, max 120W)

Single, compact 12V port to universally charge electronics with different connectors using a variety of adapters
Allows GZ to create 12V products to use 6mm instead of the bulky cigarette socket

(1) USB-C PD (5-20V, max 3A, max 60W) – Both for input/output
(2) USB-A (5V, max 2.4A, max 12W)
(1) USB-C (5/9V, max 3A, max 18W)
Usage
To turn ON or OFF the DC (12V Car/6mm, USB) or AC outputs, press the corresponding button ("12V", "USB", "AC")

Note: This single-press (without hold) can lead to

accidental

power on/off, unknowingly draining the battery until idle auto-off kicks in

Li-ion batteries have 500 charge cycles before capacity drops to about 80% from when they were new

Product could, in theory, be charged up to 2,000 cycles — about 1/4 of total capacity is lost every 500 cycle

Unlike LiFePO4 batteries, Li-ion can operate only in temperatures between 32-104F (0-40C)

GZ's Battery Management System (BMS) prevents:

Recharging in temps outside of 32-113F
Outputting power in temps outside of 14-149F

Battery, like all Li-ion, slowly drains over time even when station is powered off

Could take 1-1.5 years to go from full to empty
Continuous vs Peak Output
Yeti 500x's AC Inverter provides a continuous output of 300W with an impressive peak/surge of 1,200W

AC Inverter: Component responsible for converting battery (DC) power into AC for use by electronics

Continuous Output:  As long as a device (or combination of multiple ones) does not exceed 300W, it can be used

A TV that uses 100W can be used because it is less than 300W. You can add more devices as long as they do not exceed 300W combined
A miter saw I have uses 1,800W, and because it exceeds 300W, it cannot be used

Peak/Surge: Almost every device temporarily draws more power when it is turned on. The highest amount it pulls during that time is the Peak/Surge. This Yeti can accept up to a whopping 1,200W!

A TV that uses 200W (continuous) may temporarily suck up 700W (peak) when powered on. Because 700W is less than 1,200W (peak), this battery will allow the TV to turn on at that level for a few seconds (any longer, and it might cut power as a safety precaution). After a few seconds, the TV then only uses 200W (less than the continuous 300W limit) until the battery is drained
An unusual device that uses 250W (continuous) and surges to 1,500W when powered on would instantly be shut off by the Yeti. Why? Even though the device uses just 250W while already on, it jumps to 1,500W when powered on, exceeding the 1,200W surge limit of the Yeti
Most devices power on at a higher (Peak) wattage than when they are already on (Continuous). Therefore, if its peak exceeds the power station's max, it may not be able to start
Goal Zero Yeti Comparison
Product
Battery Capacity
AC Inverter
(Continuous)
AC Inverter
(Surge)
Max Input
Expandable
Charge Controller
WiFi, BT
Weight
Dimensions (inches)
Yeti 200x
187 Wh
120 W
200 W
120 W
No
MPPT
No
5 lbs
7.9 x 5.1 x 5.1
Yeti 500x
505 Wh
300 W
1,200 W
120 W
No
MPPT
No
12.9 lbs
7.5 x 11.3 x 5.8
Yeti 1000c
983 Wh
1,200 W
2,400 W
300 W
No
MPPT
No
31.7 lbs
15.3 x 10.2 x 9.9
Yeti 1000 Lithium
1,045 Wh
1,500 W
3,000 W
360 W
Yes. Yeti Link, MPPT
PWM
No
40 lbs
15.3 x 10.1 x 9.3
Yeti 1000x
983 Wh
1,500 W
3,000 W
600 W
Yes. Yeti Link
MPPT
No
31.7 lbs
15.3 x 10.2 x 9.9
Yeti 1500x
1,516 Wh
2,000 W
3,500 W
600 W
Yes. Yeti Link
MPPT
WiFi, BT
45.6 lbs
15.3 x 10.2 x 10.4
Yeti 3000x
3,032 Wh
2,000 W
3,500 W
600 W
Yes. Yeti Link
MPPT
WiFi, BT
69.8 lbs
15.3 x 10.2 x 13.6
Yeti 6000x
6,010 Wh
2,000 W
3,500 W
600 W
Yes. Yeti Link
MPPT
WiFi, BT
106 lbs
15.3 x 10.1 x 17
Calculations: What Size? How Long?
What size battery should you get? How long will it power your fridge for? How long will it take to recharge? The below calculations can help answer those questions and are rough ESTIMATES as conditions, battery quality, and age can vary.
Charging Times
3 hrs at max input of 180W (120W via 8mm, 60W via USB-C PD)
Wall charger: 8.5 hrs at 60W
Car charger: 4.5 hrs at 120W
100W solar panel: 6-12 hrs, depending on weather condition and panel efficiency

With two 100W panels, charging can be doubled
WARNING: do NOT connect panels

sequentially

or you may output too much voltage and fry the power station! Connect them in

PARALLEL

with a Y-Branch cable
Watts Used/Produced by a Device
Calc: Watts used or produced by device = Voltage x Amperage
Vacuum with 120V @ 9.5A uses 1,140W
Solar panel with 12V @ 10A can produce up to 120W
If a device draws more than 300W for an extended period of time, the power station will shut off as a safety precaution. This can also shorten the battery's lifetime
Ideal Battery Power Station Size
Calc: Battery capacity (Wh) = Watts used by device x Hours needed for / 0.85

10-15% of power is lost during power conversion

45W car fridge needed for 8 hours: Minimum 424Wh power station (45W x 8 / 0.85)
Battery storage capacity is measured in Wh (Watt-hours) and power output in W (Watts)
Time Before Battery is Empty
Calc: Hours available for device = Battery capacity (Wh) x 0.85 / Watts used by device

10-15% of power is lost during power conversion

60W laptop with 505Wh battery: Up to 7.2 hours (505Wh x 0.85 / 60W)
Time to Charge a Device
Calc: Hours to charge device = Device's battery capacity (Wh) / Input Wattage
60W laptop with 200Wh battery: Up to 3.4 hrs (200 Wh / 60W)
Yeti 500x Charge Time with Solar
Calc: Hours to charge battery = Battery capacity (Wh) / (Panel Wattage x [0.5 or 0.75])

In a

perfect lab

environment, solar panels charge at the indicated wattage (ie. 150W)
Expect to only receive 50-75% on a good, sunny day (ie. 75W – 113W), depending on environmental conditions, panel's age, and component quality
Tip: Even if it is overcast, the panels will STILL collect solar energy. Keep charging!

If a solar panel is rated for 100W, it could take as fast as 6.7 hours [505 Wh / (100W x 0.75)] to charge
Capacity Comparison to Power Banks
Calc: Powerbank-equivalent capacity (mAh) = Battery capacity (Wh) / Voltage x 1000
Yeti's 505Wh at 3.7V is roughly a 136,487 mAh powerbank (505 Wh / 3.7V x 1000) or a 46,759 mAh at 10.8V
Tips
Always test your devices with the power station before you depend on it on the go
Lithium-ion batteries are volatile

To minimize fire damage to your belongings or loved ones, store the power station in the garage and not inside the house. Best storage is a dry, cool place, however
You cannot bring a battery of this capacity on a plane

With the right BMS, quality batteries, and other factors, the power station can be stored in the car while camping during a hot, California summer

Keep the battery out of direct sunlight. I usually store it on the floor of the car and crack open the windows a tiny bit
Do not USE in the car if temperatures fall below or exceed the battery's rated, operating temperature (32-104F or 0-40C)

Charging with multiple Input ports

There are two 8mm ports (front and back)

Only one will be allowed to receive power
Having both Inputs receive different Voltage levels could have one drive power to — and damage — the other

USB-C PD port can receive power at the same time as the 8mm ports due to being on a separate charge control circuit

There is no overload risk for concurrently using it with the 8mm port
Keep your car cigarette lighter with the power station — you could plug it into its 12V DC socket for starting a camp fire
If using a car charger, make SURE you only charge this station while the car is RUNNING. Otherwise, you'll deplete your car's battery and leave you stranded
If charging with a solar panel, be sure to keep the station out of direct sunlight as it could overheat

A solar panel is NOT required to use the battery
Yeti 500x uses the MPPT solar charge controller/regulator

Smarter, more efficient and expensive than PWM (Pulse Width Modulation)
Suitable for larger systems

Can be used and charged at the same time. Manufacturers' recommendations for their own products:

Yes, that's fine: Goal Zero, Jackery, Rockpals, nrgGo
No/Not advisable: Suaoki

NEVER charge the power station itself in below freezing temperatures, or you will damage the Li-ion battery AND potentially limit its overall capacity

You CAN use it to power OTHER devices because the generated heat will warm its battery enough to be within operating temps
At below freezing temps, keep it in an

insulated cooler

and connected to a power source (ie. solar panels). The heat generated by the battery will keep it running as best as it can

Turn off any output ports (AC/DC) that are not being used in order to conserve power

Without anything plugged in, the AC inverter still draws 7W on its own

Do not use any power station in a tightly enclosed area as it can overheat
CleverMade 18-Can Collapsible Cooler Bag perfectly fits the Yeti 500x as a carry bag with pockets
If charging the station with the car socket, you cannot get it to 100% capacity with a 12V outlet. If you have a 24V outlet, however, you could
To prolong the battery lifetime while in storage, keep the battery fully charged every 3-6 months

Or, according to customer support, keep it plugged in when not in use and discharge it to 50% every 3-4 months

The charging controller automatically gets disabled once the batteries are full

NOT using the battery for a very long time can actually

hurt

its lifetime
There is no "memory effect" in this station's battery

Note: It is

better

to NOT let it completely drain before recharging

The battery is NOT replaceable, although some of Goal Zero's products are
CAUTION: Lithium-ion batteries do NOT like to remain discharged at 0% for prolonged periods of time. If you let your battery stay at 0% for too long, you may not be able to charge it again without specialized equipment.
Jump Start Car?
A battery power station like this one cannot be used to jump start a car. Instead, I suggest getting a small, portable one specifically made for that, such as my favorite: NOCO Genius Boost Car Jump Starter (Lithium Battery).
Goal Zero 12V Car Charger
I wanted to point out how GAME-CHANGING the Goal Zero 12V Car Charger is (Buy on Amazon/Goal Zero). The company inexplicably does not promote its benefits enough, but it can be used to charge batteries at a whopping 120W when the car port supports 10A (like my Toyota Highlander 2008 does!) All other car chargers I have (Jackery, Rockpals, Paxcess) only go up to 60W, but the Goal Zero can double that! What does that mean? Faster charging while driving around town! I bought two — one for use with the Yeti 1500x and another with the Jackery Explorer 1000.
The Goal Zero 12V Car Charger can charge a Goal Zero/Jackery battery at a whopping 120W!
CleverMade 18-Can Carry Bag
The official, Goal Zero Yeti 400/Yeti 500x carry bag costs $50. At half the price ($25), the CleverMade 18-Can Collapsible Cooler Bag perfectly fits as an insulated, protective case with pockets, a bottle opener, and plenty of space to spare.
Final Thoughts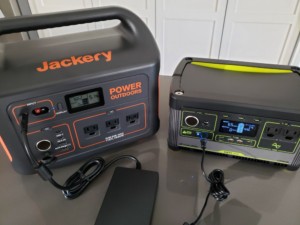 Am I glad to have the Yeti 500x? It depends. Every product has its pros and cons and every brand targets a specific set of customers. Jackery and Rockpals do well on Amazon, and Goal Zero seems to dominate the retail space with a presence at REI, Home Depot, Walmart, Best Buy, Lowe's, Backcountry.com, and even creatives-focused B&H. With a healthy ecosystem of safe products and accessories, Goal Zero can be expanded as large as one needs — something I have not noticed with any other manufacturer.
For everyday use and lightweight/compact travel, it is my first choice to take on a trip. It is simply a beautiful product that screams STRENGTH! However, when more power is needed for longer periods of time or for use with high-wattage devices, I would grab the previously-reviewed, Jackery Explorer 1000. Both products are excellent, safe choices — it simply depends on what your needs are, how much you are willing to spend (and carry), and what ecosystem you want to invest in. For the hardcore, most demanding users, Goal Zero is by far the best pick.
The company has higher capacity batteries in the works, according to The Verge, with the upcoming Yeti 1000x, 1500x, 3000x, and the insane, 6000x.
Where To Buy
Goal Zero Products

Yeti Power Stations
Solar Panels
Cables (Goal Zero's "HPP" is the same as "APP")

Other Solar Panels:
Related Posts
Other Useful Topics
Who is Goal Zero (GZ)?
Going through the company's history, it was interesting to see that the founder in 2007 started with a vision to help the poorest people of Congo get out of poverty. Their first product: the GoBe battery that now is the Yeti 150. Goal Zero was formed in 2009 with the mission to do good and provide "reliable power in the hands of every human being". Its charitable arm had provided aid in areas struck by natural disasters, such as the Haiti and Japan earthquakes and Hurricanes Sandy/Harvey.
Goal Zero's portable power stations stand out in an increasingly competitive field with their unmatched safety record and use of quality components — and correspondingly high price tag. In fact, their upcoming Yeti 6000x (due for release July 2, 2020, according to B&H) is set to offer 6000Wh of energy that not many competitors are able to safely provide. At $5,000+, it is well beyond our reach, but who knows — we will soon have roof-mounted solar panels for our home and may consider one for storing excess power like with commercial LG 5kW or Tesla solar batteries.
Battery Technology and Safety
Goal Zero debuted with Lead-Acid batteries that were bulky and heavy. Today's devices use Lithium-ion (Li-ion) and Lithium Iron Phosphate (LiFePO4) for more power in a smaller, lighter package. Li-ion, however, is more volatile and becomes riskier as more cells are packed together. The Yeti 500x uses Li-ion.
Battery storage capacity is measured in Wh (Watt-hours) and power output is in W (Watts).
The higher the Watt-hour (Wh) capacity rating, the more dangerous the battery could become if not handled right.
The quality of the battery cells and the BMS (Battery Management System) are crucial for safety.
Cell Manufacturers
Battery cells made by LG and Sony are among the best in the hobbyist world as are Sanyo/Panasonic and Samsung. Goal Zero's are by LG. During my years of research, I found that use of lower-quality batteries could pose a serious risk to life and property and should become a crucial part in deciding what to buy.
Safety
The second part in a battery's safe operation depends heavily on the design and BMS (Battery Management System). Some BMS manufacturers, unfortunately, overstate their capabilities that could lead to catastrophic failure.
Design should allow for proper, thermal cooling, use quality components, and obtain proper certifications
Batteries made by known manufacturers are less likely to fail
BMS should sufficiently restrict the battery from going past its capabilities
LiFePO4 vs Li-ion
If you are curious about Lithium Iron Phosphate (LiFePO4) batteries, they are bulkier, heavier, and cost more than Lithium-ion. However, they excel in these areas:
Less volatile and thus, safer
Charge cycle: 1500-2000 (10+ years)

Li-ion: 20-25% capacity loss after every 500 cycle (6-10 years with up to 2000 cycles, but diminishing capacity over time)

Usable in high temperatures. Li-ion: only 140F/60C max
Holds 350-day charge. Li-ion: 300