Jackery SolarSaga 100W (Gen 2) Foldable Solar Panel
$299.99
Pros
Very efficient charging
Catchy, professional look
Foldable design
Built-in kickstand
USB ports
Cons
Pricier than competition, but less than Goal Zero
No built-in battery bank
Slightly bulkier
Not water resistant (officially)
July 2020 version (Gen 3) replaced Anderson connector with 8mm
Read:
8
mins.
Introduction
Portable batteries have been seeing a rise in popularity over the past few years with the need to charge phones, tablets, computers, medical devices (ie. CPAP), and more. Gas-powered generators were a leading source of portable generators for decades, but their maintenance and environmental (and health) impact were overwhelming to some. Then came battery-based generators, made popular by Goal Zero, that offer convenience, silence, and ease-of-use to consumers. Pair them with solar panels and you are left with virtually limitless power for use by someone like me: an avid hiker, camper, backpacker, and survivalist.
A battery power station, such as the Jackery Explorer 1000, and solar panel combination makes for GREAT survival/emergency/camping gear. However, not all solar panels are made the same way. Solar technology has improved a LOT over the past decade and prices vary.
In early 2020, Jackery released an updated version of its SolarSaga 100W (Gen 2) solar panels as a direct competitor to Goal Zero's Nomad 100. The immediate difference between both products is visually striking: whereas the Nomad consists of four panels, Jackery's folds in half with just two — accented with a rigid, orange carry handle.
In A Nutshell
The April 2020 version (Gen 2) of the Jackery SolarSaga 100W solar panels comes with a strikingly beautiful update. Where many panels in its class are either fixed or fold several times into a briefcase, the SolarSaga just sandwiches in half and is held together by strong magnets, accented by a rigid, bright-orange carry handle across the top. Within that handle is a lockable compartment that houses a built-in Anderson connector cable ready to be plugged into a battery power station with an appropriate extension cable.
On a clear, sunny day, the SolarSaga had achieved as much as 80W of output, an exceptionally good number when considering that about 25% of efficiency is lost with monocrystalline solar panels. A built-in kickstand helps orient the panel at an optimal, 45 degree angle for maximum sun exposure, and a built-in pocket allows for cables to be stored.
Along the carry handle, there also are two USB ports for direct-charging of mobile devices and accessories, although this has been moved to inside the zippered storage pocket with the (Gen 3) July 2020 version (which also replaced the universal Anderson connector with an 8mm adapter). I had voiced my dissatisfaction to Jackery for the latter's change as that nearly locks the SolarSaga for use with the company's own products. A Y-branch cable is included with all Jackery Explorer 500 and Explorer 1000 power stations so two SolarSaga panels can be used in parallel to faster charge their batteries.
Overall, the SolarSaga 100W solar panels are beautiful, sturdy, efficient, and portable, and are backed by a company that has increasingly become well-known for its excellent customer service.
What's Good? What's Bad?
Pros
VERY efficient charging. Most panels should expect between 50-75% charging of the stated wattage

In my testing on a sunny, California day, I got about 80W, an 80% efficiency! That puts this panel right at the top
Monocrystalline panels generally have a lifespan of 25-30 years, after which efficiency starts to drop

Foldable design makes the panel portable, easy to stow, and protected from dust

Panels held together with two, strong magnets for quick fold/unfold

Built-in kickstand to help prop the panel towards the sun for better sun exposure
Bright, orange carry handle

Adds stability and sturdiness to panels

Makes product stand out and look professional

Two (2) USB ports for directly charging mobile devices and accessories, such as tablets

USB-A: 5V @ 2.4A
USB-C: 5V @ 3A

Port is NOT PD (Power Delivery)

LED light to indicate charging status
Locking compartment with built-in Anderson DC cable (11″/ 0.3m)

Can charge battery-based generators at 18V (5.55A)

Compatible lead-acid batteries: sealed, colloidal, or open

Anderson-to-8mm extension cable included (9.8'/ 3m)
Anderson connector can be converted to MC4 for broader compatibility with other products

Note: July 2020 version (Gen 3) of the SolarSaga 100W replaced Anderson with an 8mm adapter, and moved it and the USB ports into the built-in, zippered pouch. I criticized Jackery for this move as the Anderson connector is more universal for use with other branded power stations
Built-in, zippered pouch to hold accessories
Fairly lightweight at 5.5 lbs and portable: 24″ x 22″ x 1.8″ (folded), 48″ x 22″ x 0.9″ (unfolded)
Daisy-chainable

Two of these panels can be linked together in PARALLEL (NOT in a SERIES) for a combined, theoretical output of 200W (or up to 150W actual)
Y-Branch cable is required and can be obtained from Jackery free of charge if 2 SolarSaga panels were purchased
Jackery Explorer 1000 can accept up to 200W of input. As such, a 3rd or 4th SolarSaga is not needed

Jackery noted that panels are NOT waterproof

However, online reviews show IPX3-equivalent water resistance. See TIPS section for more info

Unexpectedly EXCELLENT customer service
Priced much lower than Goal Zero's Nomad 100, but a bit more pricey than other brands
Circuitry to prevent against reverse charging
2-year warranty
Partially worked with the Goal Zero Yeti 500x

Although Jackery and Goal Zero use 8mm input ports, they are NOT the same
Yeti's front 8mm port was partially able to accept the 8mm cable that came with the SolarSaga. It would not stay on securely, but charging worked
Yeti's back 8mm port did NOT accept the SolarSaga cable. It would not stay on at all nor charge
Recommendation: If you will use the SolarSaga 100W with Goal Zero power stations, purchase Goal Zero's own 8mm-to-Anderson cable
Cons
No built-in battery to store some of the charge generated by the panel

You can either directly charge devices with the panel, charge a battery-based generator, or a battery power bank

Can be considered expensive for casual campers/hikers
Bulky and heavy for some

Orange carry handle makes overall product dimensions slightly larger than most competitors' 100W panels

Not waterproof, though online reviews show IPX3-equivalent water resistance. See TIPS section for more info

USB ports and the area the Anderson cable comes from are NOT water resistant. Keep them dry!

Note: July 2020 version (Gen 3) of SolarSaga 100W moved them to inside the zippered pouch, making the panel a bit more water resistant overall

8mm charging cable is NOT compatible with Goal Zero's 8mm port (it will not securely stay connected)

For use with Goal Zero, get a Goal Zero 8mm-to-Anderson adapter instead

July 2020 version (Gen 3) of the SolarSaga 100W has replaced the Anderson connector with an 8mm one

Reduces compatibility with other branded power stations, for which I have criticized Jackery in a feedback to their customer service team
Tips/Notes
Panel lifespan: Panels generally die/become inefficient between 25-30 years

They may last longer, but would produce less energy

Solar panels work best outdoor under full sun exposure

Although the panels will work under the shade or behind windows, charging efficiency is greatly diminished
Panels will STILL charge under cloudy conditions. So, keep the panels out even if you do not see the sun
Operating temperature range: 14F to 149F (-10C to 65C)
ONLY the solar panels can (and should) be directly under the sun while charging a battery power station

Keep the power station in the shade to prevent overheating

ALL panels must be uncovered to generate a charge

Do not completely cover one or more panels or the charging will stop

To maintain solar efficiency, the panels should be kept clean

Remove dust with a soft brush and wipe with a damp (NOT wet) cloth
Any residue, such as tree sap, should be removed as soon as possible

Although Jackery states the SolarSagas are NOT waterproof, online user anecdotes claim IPX3-equivalent water resistance. This translates to:

Capable of taking water sprays of up to 60 degree angles or less
Keep dry the USB ports and where the Anderson cable comes out. They are NOT water resistant!

Heavier rain can cause damage
Note: July 2020 version (Gen 3) of SolarSaga 100W moved them inside the zippered pouch, making the newer panel a bit more water resistant

Keep panel away from water that spray at greater than 60 degree angles
Keep panel away from low-pressure (or stronger) water jet spray
Do not submerge the panel under water
Panels will work longer if they are kept away from water altogether

Do NOT bend the panels more than 30 degrees or risk breaking them!
Keep the panels away from fires and heaters
Charging Times
When using solar panels to charge battery power stations, the amount of energy the battery may accept could be throttled to prevent overcharging.
Example: Jackery Explorer 1000 slowed incoming wattage from 70-80W to about 50W once it reached 70% battery charge.
How many Watts does a device use?
Calc: Watts used by device = Voltage x Amperage
If a vacuum is 120V and 9.5A, it uses 1,140W
How long does it take to solar charge a battery power station?
Calc: Hours to charge battery = Battery capacity (Wh) / (Panel Wattage x [0.5 or 0.75])

In a perfect lab environment, solar panels charge at the indicated wattage (ie. 100W)
Expect to only receive 50-75% on a good, sunny day (ie. 50W – 75W), depending on environmental conditions, panel's age, and component quality
Tip: Even if it is overcast, the panels will STILL collect solar energy. Keep charging!

Charging with a 100W solar panel

Jackery Explorer 500: As fast as 6.7 hours [500 Wh / (100W x 0.75)]
Jackery Explorer 1000: As fast as 13.3 hours [1000 Wh / (100W x 0.75)]
Connecting 2 SolarSaga 100W with Y-Branch Cable
To connect two SolarSaga 100W solar panels, a Y-Branch cable is needed for parallel charging. That cable is included free with the purchase of one of the following:
If the cable was not included, you should contact Jackery customer service, and most likely one will be sent to you at no cost. The below photos show how to use the cable with the panels and the Jackery Explorer 1000.
Who is Jackery?
According to the company, its name was derived from "Jacket" and "Battery" as a homage to its Apple jacket battery manufacturing roots. The company was founded in 2012 by a former Apple battery engineer and claims to have "launched the [World's] first… Lithium Portable Power Station" three years later. It had partnered with Honda to brand the Japanese namesake onto a variety of battery products.
Final Thoughts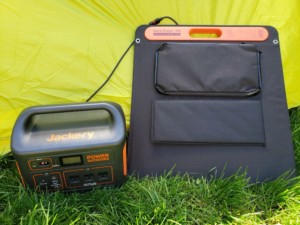 Jackery had impressed me with its Explorer 1000 battery power station. Unsurprisingly, their SolarSaga 100W solar panels performed very well, look professional and sturdy, and came with excellent customer service. The bright, orange carry handle makes the product stand apart, adds rigidity to partially-flexible solar panels, and houses convenient USB ports and a built-in Anderson connector for charging battery power stations. This, however, subjects those very same features to water damage during rain, and perhaps contributed to the company's decision to release the July 2020 version (Gen 3) with the junction box housed within the zippered accessory pouch instead. That was a great move but left me perplexed to learn that the universal Anderson connector was replaced with their 8mm adapter at the same time. Why would Jackery cripple their product for use with just their own power stations? It makes no sense!
Despite the strange decision to replace the Anderson connector, the SolarSaga, when used with a Jackery battery power station, makes for a formidable, off-the-grid combination. A pair of them (in conjunction with the Jackery Explorer 1000) had literally powered our work-from-home needs during a whole-day power outage: a 12V car freezer, two laptops and monitors, modem and router (for Internet access), fan, and 2 iPads. Could not have been happier!
Where To Buy
Jackery
Goal Zero Solar Panels
Related Reviews
Solar Panels
Power Station