Read:
5
mins.
Care For An Ice-Cold Drink?
My dad bought an Euhomy countertop ice maker last year that makes 40 lbs of ice every 24 hours for entertaining when the refrigerator could not produce cubes quickly enough. I had something else in mind. My two friends and I wanted to go backpacking in the John Muir Wilderness and bring my little son along for his first ever, multi-day trek. I wanted an ice maker that would run on low enough of a wattage that it could be plugged in to a portable battery power station while out camping or driving. Something portable that could make ice quickly and be put away without leaving any odors that could entice bears to break into my car. A car freezer would be out of the question. Turns out, Euhomy makes a smaller version of their countertop ice maker: one that produces 26 lbs a day, runs on less than 100W, and even less when on idle. With temperatures expected above 100F in Bishop, California, I went ahead and bought one for our June 2020 trip. Indeed, our destination town was 106F when we arrived!
One of our goals was to enjoy a can of Coca Cola as a celebratory drink after days of being out in the wilderness, and nothing would be as good as an ice-cold soda or beer! Did the Euhomy make ice fast enough? Yes and no.
In a Nutshell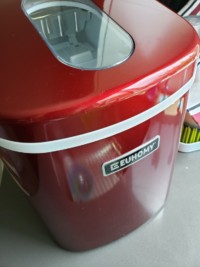 The Euhomy IM-12AR Countertop Ice Maker (26 lbs/day) is a beautiful, red, compact appliance. The way it makes ice is fascinating to watch for both my son and I, and interestingly, it makes 9 hollow, ice bullets (in two configurable sizes) within roughly 6-10 minutes. The initial batches produce thinner ice, but as the source water cools, they become quite thick and are made faster. Taking about 80-90W of energy during production and up to just 2W at idle, I was able to have it make ice throughout the day with two 100W solar panels parallel-charging a Jackery Explorer 1000 power station at a combined 140W. In other words, I never had to worry about running out of battery for the ice maker to run from that day!
The Euhomy's large fan was noisy at times and nearly ran constantly during ice making. In fact, to ensure adequate cooling for more efficient production, it is important to leave a few inches of gap around the unit. Each batch of ice audibly dropped into the removable tray and stayed frozen quite long even when the power was turned off or idle. Any unused ones slowly dripped back into the water reservoir ready to be re-used for the next set. Water is not wasted, but because the ice making cycle is never-ending, I do not recommend this appliance for long term, continuous use as wear and tear and a potential increase in energy use can be disadvantageous to your wallet.
For quick, occasional ice making on the kitchen countertop or while outdoors, this small appliance worked very well for our trip, quenching our thirst in a 106F degree desert sun. It was easy to clean through a bottom drain hole and used minimal enough energy so not to drain my 1000Wh battery power station.
What's Good? What's Bad?
Pros
Quick ice making, producing 9 bullets every 6-10 minutes

As source water cools, ice becomes thicker and is made faster

Minimal power consumption at just 80-90W when making ice
Beautiful, red color reminiscent of KitchenAid
Easy to clean

Bottom hole to quickly drain unused water

Fascinating to watch ice production
Fairly light weight (19 lbs)
Compact at 13″ x 12.5″ x 9.5″
Well-priced at $109
Infrared sensor to stop ice making when tray is too full
Unused ice cubes melt and are reused for the next batches

Water in reservoir becomes colder and helps speed up thicker ice production
Reservoir holds 0.6 gallon (2.2 liter) of water

Removable ice tray and scoop

Basket holds about 1.5 lbs of ice and makes 26 lbs daily, according to the manufacturer

Quiet when appliance is in a sufficiently cool environment (and fan does not need to turn on)
Makes two sizes of ice bullets

In warmer environments, Small ones are recommended

Easy to use
Two available colors: Red, Grey
1 year warranty
Responsive customer service
Cons
Unlike a freezer, ice does not stay frozen

Unused ice drips back into the water reservoir for re-use
Can increase energy usage due to the continuous ice making cycles

Should not be used for long term, but rather for whenever you need to quickly make ice from time to time

Some may find it too slow to make ice at between 6-10 minutes

Will not work well for a large group of thirsty people, but if you started an hour ahead, you should have enough ice for the initial batch of drinks

Lid is not sealed, allowing for heat to enter and melt ice faster in warmer environments
Can be noisy when the fan kicks in for warmer environments or where air flow is inadequate
Produced ice dropping into the ice tray can startle some
No included carry case
Forgetting to plug back the drain hole can result in wasted water (happened a few times)
User guide has grammatical errors, though was easy enough to follow and understand
Tips
When you receive your ice maker, do NOT plug it in until it has stood upright for at least 10 hours to allow the compressor to settle
To use, add water to the reservoir up to the Max line, and plug in the power cable

Watch how the water is drawn from the reservoir into the ice making chamber and frozen

Initial batches of ice will be thin until the reservoir holds colder water
Runtime with Battery Power Stations
To calculate how long the ice maker could be used for with a battery power station depends on the battery's capacity (Wh) and how much power (W) the Euhomy draws
Examples are with a Jackery Explorer 1000 (1002 Wh). Halve the time when used with a Goal Zero Yeti 500x (500Wh)

Plugged into AC port: 1002 Wh x 0.85 / Device Wattage

As short as 9.4 hours (1002 Wh x 0.85 / 90W). Longer when idle
About 10-15% of power is lost during conversion from DC (battery) to AC, which is normal for all power stations
Euhomy only uses power to make ice. Once the ice tray is full, it goes idle to minimize power draw. As such, the ice maker could last a lot longer than the time listed above
Ice Making Efficiency
Ice can be made faster and thicker when:

Water is colder

As unused ice melts in the tray, the water reservoir increasingly becomes colder

Surrounding temperatures are cooler
Adequate air flow (4″ or more) is maintained around the appliance, especially where the fan is
Maintenance
Clean inside with a damp cloth every week

Use sodium bicarbonate (baking soda) dissolved in lukewarm water to clean anything dirty
Allow inside to dry before closing lid and putting away

Do not use detergent, soap, or abrasive/sharp products
Never clean under running water
Change out the water every 24 hours to minimize contamination
Do NOT store the unit on its side. Always keep it upright to prevent damage to the compressor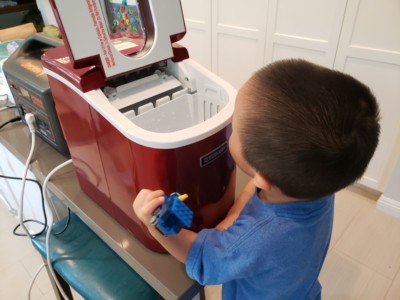 Final Thoughts
The Euhomy Ice Maker was a blessing for our trip to the hot desert a week ago. It made our outing much more enjoyable by providing for icy drinks before and after our multi-day backpacking trek through the California wilderness. Its low energy usage, fairly compact, light weight, and quick ice making paired well with a Jackery Explorer 1000 (or Goal Zero Yeti 500x) battery power station that stayed charged via solar panels and my car's cigarette lighter port.
Importantly for a home, the small appliance has a beautiful, red exterior reminiscent of KitchenAid mixers, and is easy to clean. However, because it continuously makes ice due to a lack of a refrigerated compartment, unused ice bullets are reused for the next batch and could increase energy usage and wear and tear on the compressor and ice making components. As such, I do not recommend it for long term, continuous use, but rather for occasional parties or get-togethers where ice is quickly needed for the day.
Where To Buy