Outland Living Firebowl 893 Deluxe
$139.99
Pros
Safe to use at most outdoor places
High heat output with control, quick start
No smoke, no smelling like smoke
Sturdy, well-made, portable
Vibrant flames through lava rocks
Cons
High initial cost
Not as wholesome feel as wood fire
No official cooktop to boil water on
May be too bulky for some
Propane can potentially leak with fatal consequences
Read:
12
mins.
Campfire Restrictions
It has become a sad reality. California (and the west coast) has been hit with extreme drought and prolonged campfire restrictions due to the number of unfortunate, devastating wildfires that had been stretching the State's firefighting resources thin. Our hearts go out to everyone affected! Last month saw something rightfully drastic that shocked our outdoor community: the US Forest Service shut down all CA USFS land for hiking, camping, and off-roading in its effort to prevent more wildfires!
As outdoor enthusiasts, the realization that fires and resulting restrictions will not go away anytime soon had me finally look into propane fire pits as safer alternatives to wood/charcoal campfires. They do not produce runaway ember (that could spark a fire elsewhere) and do not cause damage to the ground underneath. That also resulted in learning about refillable propane tanks as cheaper and more environmentally-friendly fuel than those green 16oz/1lb Coleman Propane Canisters.
Fires and resulting restrictions will not go away anytime soon with global warming.
Camping is just not the same without a campfire and most places in California do not restrict propane stoves or propane fire pits during high fire season. You should always check local fire restrictions, however, although most often you only need to sign up for a free campfire permit.
In this article, I will go over the Outland Living Firebowl Propane Fire Pit, the various models, and why I now use a refillable propane tank instead of the green, 16oz canisters.
In A Nutshell
The Outland Living Firebowl is one of the most popular propane fire pits recommended by outdoor enthusiasts for camping, boondocking/overlanding, and backyard gatherings. It is portable, produces pleasant, dancing flames, and outputs sufficient heat to warm up a group of people. It also does unofficial double duty for cooking! I specifically chose the 19″ Firebowl Deluxe 893 model that includes a cover and carry strap for safety and easier transport. It struck me as the version with the best overall value, size, and weight suitable for a group of up to 10 people. Indeed, the first time we used it in our backyard for a California summer evening get-together produced quite an unbearable amount of heat at its highest setting!
Safety was my biggest concern in finding a propane fire pit, followed by portability, reliability, and price. The Firebowl 893 Deluxe is certified by the CSA and looks to be sturdy and very well-made. Setup and usage was simple: Connect the pre-attached 10′ hose to a distant, secured, 20lb propane tank, check for gas leak, slowly and gradually light up the burner, and allow the included 4.4 lbs of porous lava rocks to heat up for 5+ mins for a vibrant flame. The heat intensity can then be adjusted through a valve knob — the lower the flames, the longer the fire lasts. A 5 pound propane tank could last about 2-4 hours, whereas a 20 lb would be usable for 7-12 hours according to anecdotes from users across the Internet. Various factors would affect the usage time, including heat setting, weather conditions, and ambient temperature. Do note that Outland Living will ONLY support the use of 20 lb propane tanks as that is what their products were certified for. My research found that 5-20 lb (1-5 gal) tanks are safe to connect to. I also use these cylinders to power the Mr. Heater Buddy indoor heater.
What I particularly like about the Firebowl is how quickly a fire could be started/stopped on demand (even when the surrounding campsite is wet), how it burns without any smoke, and that the heat intensity could be controlled — a valuable feature for predictable cooking. Wood and coal fires cannot easily claim those properties. Most importantly, propane fire pits can be used at most places during a campfire ban because they do not produce ember nor damage underneath vegetation.
Propane fire pits can be used at most places during a campfire ban. They also will not make you smell like smoke.
Propane fire pits, of course, also have their disadvantages. They usually are not certified for use other than what they were developed for. That means that cooking, although possible, is discouraged because fire pits like these are designed to produce yellow flames. Those result in soot, a black substance consisting mostly of carbon, that can cause breathing issues, heart disease, and even cancer. Furthermore, grease or food particles can clog the burner and give the fire pit an unsightly appearance — it certainly took some time to clean after a test of some delicious steak grilled in butter, rosemary, and garlic inside a cast iron pan. If you want the taste of charcoal or hear the fire crackling, propane is not able to provide that. Outland Living, in fact, skirts around the question of cooking and using third party products (like glass or non-lava rocks) with a generic statement that its products are not CSA-certified with other products or for use other than a fire pit. Many consumers, myself included, do not see a problem roasting marshmallows/hot dogs or boiling water over a sturdy cooktop grate, but be sure to not let any drip or fall into the pit. That would make for some messy cleanup or clogged burner holes!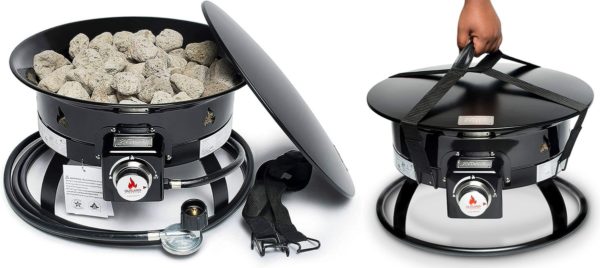 Outland Living has a natural gas conversion kit available for use at home, and the Deluxe version of the Firebowl comes with a carry strap and lid. The latter helps keep children and animals away from the cooling lava rocks while also holding said rocks in place during transport.
Camping is just not the same without a campfire, right? With fire restrictions increasingly more common in California and with our family also doing more dispersed camping, a portable, safe fire pit has become one of our favorite camping accessories to bring along. The Outland Living Firebowl 893 Deluxe fits perfectly in our Yakima SkyBox roof carrier and with that, we now have access to warmth, a natural TV show of flames, and cooking as needed. When there is no smoke, there also is no smelling like smoke! I cannot wait to use it during colder weather in a few months!
Model Comparison
Here is a summary of the various Outland Living Firebowl models and available accessories.
Firecube
805
Standard
823
Deluxe
893
Premium
870
Cypress
863
Mega
883
Dimensions
14" x 14" x 9"
19" x 19" x 11"
19" x 19" x 11"
19" x 19" x 11"
21" x 21" x 9.25"
24" x 24" x 13"
Diameter
14" Square
19"
19"
19"
21"
24"
Weight
19 lbs
22 lbs
23 lbs
25 lbs
26 lbs
34 lbs
Burner Shape
Standard
Propane
Standard
Propane
Standard
Propane
Standard
Propane
Helios
Propane
Standard
Propane
BTU/Hr Output
58,000
58,000
58,000
58,000
58,000
58,000
Ignition
Manual
Manual
Manual
Auto
Manual
Manual
Cover + Carry Kit
Included
-
Included
Included
Included
-
Carry Bag
-
Available (760)
Available (760)
Available (760)
Available (762)
Available (761)
Natural Gas Kit
Available (782)
Available (780)
Available (780)
Available (785)
Available (781)
Available (780)
Price (Amazon)
$169.99
$119.99
$139.99
$169.99
$169.99
$179.99
Notables:
Standard (823) model is the same as the Deluxe (893) without a cover and carry kit included
"Helios" burner adds two extra tubes to create a fuller, more natural-looking flame
No difference in fuel consumption between the different model sizes (19″, 21″, 24″) and burner shapes (Standard vs Helios) as all burn at the same 58,000 BTU/hr rate
What's Good? What's Bad?
Pros
Safe to use at most places when campfire bans are in effect

Check current fire restrictions before heading out!

Easy and fast setup (takes less than 5 mins)

Quick to start and stop fire, even in mild rain

CSA-safety certified

CSA is a Canadian standards organization recognized and accredited in the USA by ANSI and OSHA

Creates nice ambiance and heat
No smoke to irritate eyes with and no smelling like smoke!
Lava rocks, once heated, retain their warmth for an additional 20-60 mins after gas had been turned off

Porous nature of lava rocks produce vibrant, dancing flames
Firebowl works with tempered glass rocks, though the manufacturer cites its safety certification to NOT include 3rd party products
Heats up VERY quickly (almost instantaneously)

58,000 BTU/hr output produces enough heat for up to about 10 people, depending on ambient temperature and weather conditions

You may consider looking into the larger, 21″ or 24″ models for bigger groups

Steady amount of heat even in wind

Flame intensity control via a valve knob
Portable and fairly compact at 22 lbs @ 19″ x 19″ x 11″ H

Less bulky to carry around than bunches of wood. No need to look for wood at campsites either
Less impact to the local environment

Sturdy, durable, and well-made

No discolored or damaged paint thus far

Virtually limitless fuel via a 20 lb propane tank that could last for multiple camping days under typical use

Burn time depends on various factors

5 lb (1.3 gal) tank: 2-4 hours (1-2 nights)
20 lb (4.6 gal) tank: 7-12 hours (3-6 nights)

A 20 lb tank is often associated with those used by BBQ gas grills

Refillable tanks can pay for themselves over time as 5 lbs of propane only costs about $5 to refill at the local gas station

Compare that to a 16 oz (1 lb) green propane canister that sells for more than $4.50 each

Stabilizer ring included to stabilize a 20 lb tank from falling

Note: It's too large for my Flame King 5 lb tank
10′ hose pre-attached to help fire pit be safe to use by keeping the fuel far away from the flames
Built-in excess flow safety device in the hose regulator as a safety precaution

Note: This can result in flames being low. See TIPS section to learn more

Can be used over nearly any, non-combustible surface as I hardly feel any heat below the fire pit

Does not scorch the ground and probably will also not melt any snow underneath

Metal legs can be secured with a chain to minimize theft risk
Cover and Carry Strap included

Keeps children, animals safely away from hot lava rocks
Holds lava rocks in place during transport and keeps rain away from the fire pit
Strap makes it easier to carry pit around

Can be used to keep hose secured around the pit for storage
Can be used for cooking, though do so with caution:

Yellow flames intentionally produced by propane fire pits create soot, a black substance that can lead to breathing issues, heart disease, and even cancer

I would not grill food directly over the flames

Cooking/boiling in a pan should be fine. Frying/grilling can spatter grease and oil that later would make the fire pit look unsightly
Marshmallows and hot dogs should be fine to cook with, but be mindful of drippings and grease that can clog the burner
Manufacturer notes that its products are not safety certified for use other than as a fire pit

No need to spend time putting out a campfire like with wood/charcoal ones
Natural gas conversion kit available for use at home
Carry case available for easier transport and to protect against the elements (like those that can lead to rust)
Cons
High initial investment cost
Propane can leak and lead to accident or death

Always be sure to check the tank and connections. Ensure adequate ventilation wherever used

Needs to be left to cool down before putting away (60+ mins)
Does not give the same, wholesome feel as a wood fire, but when a campfire ban is in effect, that is better than the alternative
No charcoal taste possible from propane
Occasionally faint odor of propane for those sitting downwind
No official cooktop grill crate available on which to boil water on

Camco's Little Red somewhat worked, but was not designed to be sturdy with the Firebowl. See better alternatives in the WHERE TO BUY section

Carry strap is not fireproof. Be sure to let the lava rocks fully cool before attaching the strap. Otherwise, it could melt
May be too bulky for some
Not all sites allow propane fire pits during a campfire ban. Check current fire restrictions before heading out!
Outland Living warns to never fill liquid propane cylinders beyond 80% full.
Propane tank needs to be refilled and maintained. Some areas may not have refill stations available

Home Depot, Blue Rhino, and AmeriGas, for example, have propane tank exchange programs available, but keep in mind that those tanks generally are not sold completely filled (see their fine print)

Included stabilizer ring for 20 lb propane tanks does not (of course) work with a 5 lb cylinder
Cannot officially be used for cooking or with third-party products like fire-rated glass rocks
Low flame output? A built-in excess flow safety device in the hose regulator can limit flame size. This is a safety feature. See TIPS section to learn more.
Tips
Usage
Lava Rock must be heated 5+ mins by the Firebowl before it will produce vibrant flames

Lava Rock seemed to perform better after rinsing dust away with water and left to dry

When done, turn off the gas at the tank first so any propane left in the hose gets used up
Not all places allow the use of propane fire pits during a campfire ban. Check for local fire restrictions and obtain any required permits
Do not use indoor or in any enclosed area
Keep clear at least 80″ (or 7′) above and 36″ (or 3′) around the fire pit!

Propane tank should be at least 36″ (or 3′) away from the fire pit!
Always make sure there is no combustible material underneath, around, and above the pit! You would not want to accidentally cause a forest fire, would you?

Carry strap is not fireproof. Be sure to let the lava rocks fully cool before attaching the strap. Otherwise, it could melt
Wipe the Firebowl after each use with a damp paper towel or cloth to keep it looking pristine
Metal legs can be secured with a chain to minimize theft risk
Ignition and Low Flames
Propane tanks and appliances have a built-in excess flow safety device. The Firebowl's is located in the hose and those not aware may think their fire pit or propane tank is defective when it actually is a safety feature. If pressure builds up too fast in the hose, the hose regulator will limit the flow, keeping the flame size low and not responsive to the gas knob.
Firebowl's maximum gas supply pressure is 250 PSI.
Troubleshooting a Low Flame
Turn off the gas at both the propane tank and fire pit ends
Open the fire pit gas valve to release pressure and close again
Disconnect and reconnect the hose from the propane tank
VERY SLOWLY open the propane tank's valve. Going too fast will release too much pressure and trigger the hose safety device again
Perform a leak test around the valve and hose

This should be done at least once a year
One simple way is to mix soap and water and spray onto the valve and hose
If you see bubbles forming or smell propane, you may have discovered the leak and should shut down the gas immediately

Wait an hour for the remaining gas to dissipate before disconnecting the hose. Take the part in for inspection

If there is no leak, proceed to igniting the fire pit
Igniting the Fire Pit
Manufacturer recommends 80″ (7′) clearance above and 36″ (3′) surrounding the fire pit

No combustible surface should be underneath

Ensure the propane tank is at least 36″ (or 3′) away from the fire pit – THIS IS IMPORTANT!

If possible, put the tank into the included stabilizer ring to keep it from tipping over

With the propane tank's gas valve already SLOWLY opened, light up a match or lighter slightly above the fire pit
VERY slowly open the gas valve on the fire pit until the fire ignites
Storage
Always ensure the propane tank and fire pit are both turned off when not in use
Firebowl can be stored indoors if not connected to any gas source
Keep Firebowl out of rain and store in a dry place
Considering getting a carry bag for the Firebowl
Propane fuel itself does not expire, but the tank does have a shelf life shortened by rust. A well-maintained tank can last 10-30 years
Propane tank must be stored outdoors in a well-ventilated area out of the reach of chilren

Should never be stored in the garage or any other enclosed area
Burn Time Calculation
BTU (British Thermal Unit) measures the amount of heat (energy) it takes to raise 1lb of water a single 1F. It is commonly used with heaters and air conditioners. There is 91,500 BTU of energy in 1 gallon (4.24 lbs) of liquid propane. Learn more
To calculate how many hours are available for the fire pit set on the "High" setting with 1 gallon of liquid propane:
Calc: 91,500 BTU/hr / Appliance BTU/hr rating = Hours available per gallon
Firebowl burns at 58,000 BTU/hr on "High" setting. It can last an approximate minimum of:

1 gal (4.24 lbs) propane: 1.58 hours = 91,500 / 58,000

5 gal (21.2 lbs) propane: 7.88 hours = 91,500 / 58,000 x 5

1 lb propane: 0.37 hours = 91,500 / 58,000 / 4.24

5 lb propane: 1.86 hours = 91,500 / 58,000 / 4.24 x 5
20 lb propane: 7.44 hours = 91,500 / 58,000 / 4.24 x 20

Online calculator: Rollingfox.com
Final Thoughts
My children and fellow camping friends were ecstatic when they saw the Outland Living Firebowl turned on at camp. It turned their disappointment of not being able to have a campfire to one of joy and cheers, starting the evening off with a warm, cozy mood and intriguing storytelling. Sometimes, some neighbors walked by to remind us that a campfire ban was in effect until we shared we were running off propane, whereas some would come over to ask which fire pit we had or recommended.
I appreciated the ability to quickly turn on the fire in the chilly, early morning while the little ones slowly woke up and sat in their chairs with instant ramen or hot chocolate in their hands. Furthermore, refillable propane tanks are not only less expensive and more environmentally friendly than the 16oz/1lb green propane cylinders, they can also power our Mr. Heater Buddy indoor heater for longer periods of time. A 5 lb propane tank allows about 2-4 hours of use, perfect for a long weekend getaway.
If I had not yet made it clear, a propane fire pit has become an essential part of our camping gear now, especially when campfires are not allowed or when I don't want any smoke to irritate the eyes of the youngest of the kids. It also has enabled us to have a campfire (without smelling like smoke afterwards) when boondocking/overlanding on dispersed land where new fire rings are not permitted. All in all, could not be happier with our choice. The Firebowl 893 Deluxe comes highly recommended.
Where To Buy
Related Reviews