Domende Car Freezer/Fridge 54qt (HC-50)
$329.99
Pros
Large, flexible capacity
Fast cooling/Consistent temperatures
Low energy usage
Bluetooth-connected App
AC power and 12V car plug options
Cons
Heavy, especially when full
Non-collapsible carry handle
No wheels or wheel kit available
May be too large for some cars
Exterior is not heavy-duty
Read:
11
mins.
Refrigeration On The Go
My friend's husband works at the hospital helping to fight the COVID-19 pandemic. Her family is a nature-loving couple with two, young children, and she thought it would be a great idea to get a car refrigerator to surprise him with for their upcoming Yosemite trip, which by the way, temporarily requires a permit to enter. She saw my review for the Foho 54qt (BCD-52) and asked how it would compare to her cousin's recommendation, the Domende HC-50. I have never heard of Domende (aka "Donmende"), and at first glance, the specifications looked on par as any reputable brand I had seen. There is, however, one glaring difference: it only has one compartment. That meant that because there was no section divider (like the Foho), the entire unit's content would be subject to just a single temperature. In other words, the Domende could be used as either a refrigerator OR freezer. On the flipside, the lack of a divider would result in more flexibility and storage space.
I did not get much time to test this car freezer, and here are my impressions.
What's Good? What's Bad?
Pros
Very large capacity

There is a large and small section, both of which are not separated by a wall

Side grooves indicate that a divider could be added, but I could not find where to purchase one
Content could shift around
Only one temperature could be set for the entire unit (cannot be used as both a freezer and chiller like the Foho BCD-52)

Fast-freezing

After 30 minutes, entire unit went from 72F to 27F, then to -1F after 60 minutes

Adjustable temperature: -4F to 68F (-20C to 20C)

Allows use as either a fridge OR freezer, but not both

Two (2) Energy modes: Max and Eco

Max is useful when surrounding temperature is 86F+ (30C). Runs compressor at a higher speed
Eco mode, although using less energy, can ruin the compressor in the long run

Temperature was roughly consistent during 2 days of continuous use. It was set at -4F, and spot checking throughout the day resulted in readings between -4F and 2F (in Max mode)

Temperatures will fluctuate slightly more in Eco mode

Auto resume: When power supply is cut off and later restored, appliance continues operation
Digital controls via four, physical buttons (Power, Settings, Plus, Minus)

All the information needed is displayed on a single screen
USB port for charging mobile devices
Two (2) Power options

12V or 24V car adapter (10′ cable included)
100-240V AC wall plug, outputting 14.5V at 6.0A (or about 87W)

Low energy usage. (See TIPS section for calculating how long the car freezer could be used for on a battery power station)

Domende only uses power to reach or maintain set temperature. Once there, it goes idle
60W with AC port of the Jackery Explorer 1000 (7W of that is used by Jackery's inverter). Manual states up to 40W draw
42W with 12V DC car port on the Jackery
1W – 2W on idle

Three (3) levels of Battery Protection to help prevent the car battery from running down
Top opens sideways, but can be changed to open from the back, too, although I wish it could be opened from the control panel end, too
Domende HC-50 can be controlled with Alpicool's "Car Fridge Freezer" mobile app
App control via Bluetooth (available for iOS and Android: "Car Fridge Freezer" by Alpicool)

Shows input battery and voltage level, though it is not accurate
Can change every setting, even when unit is turned off (as long as power is provided to the Domende)

Max/Eco, Battery Protection Level, and Power On/Off
Though these can be changed, you should leave them alone: Min/Max Temperatures, Start Delay, Temperature Compensation (TC) values

Fairly quiet
Built-in LED over larger section to help see in the dark
Usable during off-roading

Works at up to 30 degree angle tilt, although the product description says it can work at up to 45 degrees
Anti-shake design keeps compressor protected

Sturdy carry handles on both ends, although I wish they could be tucked away
Can be used while the car is turned off, if its car port has a bypass to work directly off the battery

Many SUVs, trucks, and minivans today have such output at the back. Refer to the car's owner manual

Drain hole at the bottom to let excess or spilled liquid out
4 "cup holder" and a larger, rectangular indentation on top of the lid for holding drinks and larger items
Detailed, informative manual that was understandable, though riddled with grammatical errors
Excellent customer service

Questions were answered promptly and in surprising detail
Cons
Larger and smaller sections are not separated by a wall

Side grooves indicate that a divider could be added, but one was not provided, and I could not find where to purchase one
Although space is maximized that way, content could shift around and not stay in place
One temperature for the entire unit

Cannot be used as both a fridge and freezer at the same time

No removable wire basket to easily load/unload content from freezer section

Exterior is not as tough as my Foho BCD-52 car freezer
Carry handles are not collapsible or protected

When packing, one must pay extra attention to not shove something so hard, that the handles could break off

At 31.2 lbs, could be heavy for some, especially if the inside is completely full

Lighter than Foho BCD-52 by about 5 lbs
No wheels to transport with
No wheel kit available. Use a two-wheel cart to transport as needed

Do NOT mess up your back as that will haunt you for the rest of your life!

Lid can only be configured to open from the side or back, not from the control panel end

Less vertical clearance is needed to fully open a side-mounted lid

May be too large for some cars
Like other car freezers in this price range, requires manual defrosting

To defrost and remove excess ice, power off the unit and wipe dry, then power back on

Do not allow a large amount of frost to build up on the inside of the walls as that will make cooling less efficient

I was not immediately able to find any portable car freezers that have an automatic, self-defrost cycle that "cleans" the freezer from accumulating too much frost

AC plug is only two-pronged, and as such, cannot be grounded
No overload protection with a replaceable fuse
No protective carry bag included
Not waterproof. Keep it out of the rain
Tips
When you receive your car freezer, do NOT plug it in until it has stood upright for at least 10 hours to allow the refrigerant to settle
Internal temperature is displayed on the LCD at power-on and updates periodically
There is no built-in battery

Requires a power station, 12V/24V DC/car port, 120V/220V AC, or solar panel(s) capable of providing at least 60W of sustained power

Compressor is made by Anuodan
Oddly, I could not find the "Domende" branding anywhere, but a model number on an informational sticker showed "A-C50"

A web search found the Alpicool C50 car freezer that looks EXACTLY like this Domende
Explains why the mobile control app is made by Alpicool — the Domende likely is a re-badge
If you hear an unusually loud, rattling noise when the compressor turns on, you may check for the following, possible causes:

Cable vibrating with the compressor

Tuck the cables away and hold them together with electrical tape (as shown in above photo)

Other pipes touching the compressor, one of its pipes, or the exterior case/cover

WARNING: Copper breaks easily! Very CAREFULLY bend the pipes away
Settings
Battery Voltage Protection
There are 3 levels of protection: High, Medium (Default), and Low.
To set: When powered on, hold the Settings button for 3 seconds. Cycle between L/M/H with the Settings button.
The car freezer will operate until the battery reaches a specific voltage level. Not setting the appropriate level could potentially leave you stranded with a car that will not start

Manual does not state at which levels the compressor will stop and resume, but the app shows: High 12.0V, Medium 11.5V, and Low 9.0V

When connected to a battery power station: Use Medium or Low
When connected to a car: Use High or Medium
Compressor Power
The car freezer can be set to operate under two modes: Eco or Max (Default).
To set: When powered on, briefly press the Settings button to cycle between Eco/Max
"Eco" uses less power (runs compressor at lower speed) than "Max" to minimize draw on any connected battery, but can ruin the compressor in the long run
"Max" runs compressor at full power
Error Codes
If an error occurs, one of the following codes will display on the LCD:
F1: Low power protection activated. Change H3 (High) to H2 or H1 (Medium or Low)
F2: Fan overloaded. Turn unit off for 30 minutes to let cool
F3: Compressor overloaded. Turn unit off for 30 minutes to let cool
F5: Compressor controller module overloaded. Turn unit off for 30 minutes and let cool in a ventilated place
F7/F8: Temperature sensor error. Turn unit off and back on
Programming
To enter programming mode: Turn off the unit, but keep it plugged in to a power source. Hold the "Settings" button for 6 seconds until "E1" displays. Cycle through the options by pushing "Settings", and change values up or down with the respective "+" or "-" buttons. To accept the setting, leave the screen blinking until it stops after a few seconds. The various program options can also be changed with the Bluetooth-connected app.
Here are the various options that can be programmed. They should not be modified as they could cause your freezer to fail or be damaged.
PROGRAM AT YOUR OWN RISK!
E1: Lowest temperature that freezer can be set to cool down to. -40C/-40F to Target temp. Default: -20C (-4F)

Caution: setting the value too low may damage the compressor

E2: Highest temperature that freezer is allowed to reach. Target temp to 40C/104F. Default: 20C (68F)
E3*: Difference from target temperature before powering up compressor again. 1C/1.8F to 10C/18F. Default: 2C (4F)

Compressor should stop at target temperature (ie. 4C), and start again when internal temperature is E3's value above it (ie. 4C + 2C = 6C)

E4: Time delay protection. 0-10 mins. Default: 0 min

To protect the compressor, it will wait that amount of time after being idle/powered off before turning on again

E5: Temperature unit display. C or F. Default: F
E6*: Do not modify. Temperature compensation (for temp set to above -6C/21.2F). -10C/-18F to 10C/18F. Default: 0C (0F)

Displayed temperature = Detected temperature + Temperature compensation

Used to match Displayed temperature to what is actually Detected inside the unit

E7*: Do not modify. Temperature compensation (for temp set to between -12C/10.4F and -6C/21.2F). -10C/-18F to 10C/18F. Default: 0C (0F)
E8*: Do not modify. Temperature compensation (for temp set to below -12C/10.4F). -10C/-18F to 10C/18F. Default: 0C (0F)
E9*: Do not modify. Temperature compensation "shutdown". -10C/-18F to 0C/0F. Default: 0C (0F)

App refers to this as "TC: Shutdown". I have no idea what it is for. Perhaps to shut down the compressor when a specific, differential value is met?
* Each difference of 1C is 1.8F
Temperature Compensation
If you find the temperature displayed on the control panel is different than what is actually inside, the discrepancy can result in content overcooling or being too warm. For instance, if you meant to keep fruit cool at a set 40F, but the true temp inside is 32F, you will unintentionally have FROZEN fruit. Or, if you wanted to keep meats frozen at 29F, but the true temp inside is 36F, you may find the content having melted.
The displayed temperature should be roughly the same (by about 4F by default) as the actual one inside because the compressor will ONLY stop cooling when the display (not the storage's true temp) matches the set degrees.
If you find the temperature displayed on the control panel is different than what is actually inside, the discrepancy can result in content overcooling or being too warm.
To correct the discrepancy between the set/displayed temperature and what the internal storage really is, place two, reliable thermometers inside and perform tests with temps set to 0C, -9C, and -20C (one for each of the E6 – E8 ranges). I found the calibration easier to start with the warmer values first. If, for example, the display is 8C, 4C, and 1C higher (for each range) than what is inside, set the temperature compensations to: E6 = -8C, E7 = -4C, and E8 = -1C.
The review unit had to be adjusted to: E6 = -5C/-9F, E7 = -3C/-5F, E8 = -1C/-2F.
Reset Settings
If you find yourself having screwed up the E1-E8 settings, you can reset them to factory defaults.
Enter Programming Mode
From the "E1" screen, hold "+" and "-" buttons together until "888" displays
Note: Factory reset defaults E8 to -3C/-5.4F instead of Domende's of 0C/0F
Runtime with Battery Power Stations
To calculate how long the car freezer could be used for with a battery power station depends on the battery's capacity (Wh) and how much power (W) the Domende draws
Examples are with a Jackery Explorer 1000 (1002 Wh). Halve the time when used with a Goal Zero Yeti 500x (500Wh)

Plugged into AC port: 1002 Wh x 0.85 / Device Wattage

As short as 14.2 hours (1002 Wh x 0.85 / 60W). Longer when idle
About 10-15% of power is lost during conversion from DC (battery) to AC, which is normal for all power stations

Plugged into DC port: 1002 Wh / Device Wattage

As short as 23.8 hours (1002 Wh / 42W). Longer when idle
Domende only uses power to reach or maintain the set temperature. Once there, it goes idle to minimize power draw. As such, the Domende could last a lot longer than the times listed above
Cooling Efficiency
Domende only uses power to

reach or maintain

the set temperature ("Power" LED = Green). Once there, it goes

idle

("Power" LED = Red)

Time can be shorter or much longer, depending on how often the Domende's compressor needs to be activated to reach or maintain target temperature

The colder the set temperature and/or the warmer the ambient (surrounding) heat, the more energy will be used

Keep in a cool location and out of direct sunlight for best efficiency
Consider putting the Domende in an insulated bag for better cooling

Ensure adequate air flow (4″+) on all sides of the Domende,

especially

where the fan is at
The more frozen/cold items are inside, the longer they can stay cool/frozen. Avoid opening the lid too often or for too long
Maintenance
Ensure lid seal is clean and unobstructed to keep cold air from escaping
Clean inside with a damp cloth every week

Use sodium bicarbonate (baking soda) dissolved in lukewarm water to clean anything dirty
Allow inside to dry before closing lid and putting away

Do not use detergent, soap, or abrasive/sharp products
Never clean under running water
Do NOT store the unit on its side. Always keep it upright to prevent damage to the compressor
Defrosting and How Refrigerators Work
I was fortunate (or unfortunate) to troubleshoot our home refrigerator a few years ago when it could not keep food frozen nor items cool in the fridge section, resulting in nearly a thousand dollars in lost food and medication… twice. Sears technicians were useless and considered the unit a total loss. After having spent months researching and learning, I gained an understanding of how refrigerators work and fixed it myself. (If you are curious, 2 thermistors needed to be replaced at a couponed cost of $86.)
A refrigerator unit consists of two compartments: freezer and refrigerator (for drinks, fruit, veggies, etc.)
Freezer pushes cold air into the fridge section via a fan, and the warmer air from the fridge is returned to the freezer for cooling

If the freezer fails, so will the fridge

The compartments each have a thermistor (a resistance thermometer) to sense how cold both sections are
Compressor (and associated fan) is turned on or off as needed to maintain the temperatures
Over a long time, as you keep opening the door and let warmer air enter the freezer, the air moisture turns into frost/ice along the walls and shelves

Cooling efficiency diminishes and could spoil food faster when safe temperatures cannot be maintained
Frost build-up reduces available freezer space

For optimal efficiency, you should defrost the freezer at least once a year by unplugging the appliance and letting the ice melt off the sides and shelves

Have a towel ready to soak up the melted water and wipe dry the sides before turning it back on

Today's refrigerators have an auto-defrost cycle where heat is applied to the freezer's evaporator coil (which is responsible for cooling)

 Melted water leaves the freezer and is evaporated by a fan
Cycle can occur once or multiple times a day, resulting in fluctuating temperatures

Auto-defrosting freezers cost more, use more energy, make more noise, but require less maintenance
The Domende car freezer does NOT have an auto-defrost cycle (nor was I immediately able to find any portable ones that do), and so requires occasional, manual defrosting when used for an extended period of time.
Domende HC-50 vs Foho BCD-52
As previously mentioned, the Foho BCD-52 is my personal choice over the Domende HC-50. However, both car freezers are excellent in their own rights. The Domende accommodates a wider range of content sizes, adds a Bluetooth-enabled app control, but only offers one temperature setting for the entire, single compartment. Foho, on the other hand, has a much more solid design, tougher exterior, and contains two sections where one can operate as a freezer and the other as a chiller.
Final Thoughts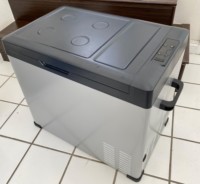 The Domende HC-50 (54 qt) car freezer impressed me with its more forward-thinking technology when compared to the Foho BCD-52 and Rockpals RP-25L units. It has Bluetooth available for remote monitoring and a port for USB recharging. The ability to reconfigure the lid to open sideways or from the back (sadly, not from the control panel side) makes it additionally useful in different mount configurations. During my few days of testing, the compressor reliably kept the insides at the set temperature, although the biggest gripe I have revolves around the carry handles that stick out and cannot be collapsed away. Furthermore, because there is no separator wall between the large and small sections, the amount of storage space is slightly more maximized — at the expense of having just ONE temperature set for the entire unit. Grooves on the sides indicate that a separator could be added, but I was unable to find where to buy one. Kudos to my friend's cousin for recommending the right appliance to her. As for me, I prefer having the ability to have both a freezer and chiller section within the same appliance (like the Foho BCD-52).
Where To Buy
Related Reviews