Joyor X5S Electric Scooter
$699.99
Pros
Long range and battery life
Powerful motor
Comparatively light weight
Priced lower than most brands
Folds fairly compact
Cons
Basic manual with missing details
Relatively new brand in the U.S.
Not waterproof
Tires difficult to inflate with standard bike pump
Shipping box needs reinforcing
Read:
15
mins.
Rise of e-Scooters
Many have likely heard about electric scooter services from Bird, Uber, Lyft, and Lime. They strew e-Scooters all around town and customers can use an app to locate and rent them by the minute. When done, they simply leave the transport and walk away. The service is very popular with young people, but has pitched residents, cities, and scooter companies against one another throughout the United States. Some find the service they provide as very convenient, and others find them dangerous and demand a ban. Indeed, according to my nurse and doctor friends, many visits to the emergency room appear to be the result of collisions with scooters, or their operators accidentally (or stupidly) injuring themselves. As with any new technology, there always is a battle between those who embrace innovation and those who do not like change. But, how do I feel about all this? I had never ridden one myself… until recently.
Disclosure: Joyor, a relatively new brand in the U.S., approached me for an honest, unbiased opinion of their newest scooter in exchange for test driving it for a month. The opinions expressed here are honest and my own (learn more). Ultimately, I purchased a production version for myself (at market price) after returning the test unit.
In this review, one should keep in mind that as a first-time rider of an electric scooter, I had nothing comparable to share experiences with. The closest transportation vehicles would be bicycles, manually-powered scooters, skateboards, and electric cars. However, where I can share my opinion is how it made me feel in terms of safety, convenience, emotions, and value.
Who is Joyor?
According to their website, the Yongkang, China-based company was founded in 2014 with a mission to make "lives simpler, more enjoyable,… productive, and… secure". They claim to be one of the largest manufacturers of high-end electric scooters in China and would like to take the brand global. It already has captured a sizable mindset with some European markets.
In a Nutshell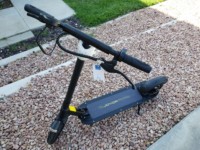 The Joyor X5S is such a joy to ride! With fast acceleration and a wide base for stability, maneuvering it with the wind brushing against my helmet-protected face felt good and freeing! The brake, gear selection, and acceleration controls were second-nature, and the ability to fold the scooter for carrying around added space-saving convenience around the garage and car trunks. At just 33 lbs, it is fairly lightweight for its class, though not the lightest among e-Scooters that have smaller batteries or less powerful motors. It packs a nice punch of power (500W nominal, 580W max) going up hills, and is priced more competitively against well-established brands, such as Segway and Razor, for models with similar specifications.
I was able to tandem ride the scooter on its first day for 15 miles with the battery run down to 40% remaining, solo for 29 miles with 25% left, and always felt that there was plenty capacity left to stroll around the neighborhood at up to 15 mph, a speed limit artificially set by California law. And that leads to the biggest gripe: the California law for motorized scooters that went into effect on January 1, 2005. Although I understand the intent behind the law to protect people from injury, it had put a tremendous damper on my ability to RESPONSIBLY enjoy riding it around town. Federal, State, and local City laws will also differ. With that said, it does not take away from the fact that driving an electric vehicle is quite fun.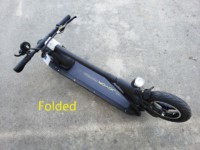 The other issue I found was with the instructions that were so basic for a technical person like myself, I had to reach out to the manufacturer multiple times to get the details I sought to include in this review. The information gathered will hopefully be of use to you. Shifting between gears is done in sequence: 1, 2, 3, 1, 2, 3, … At the lowest, the speed is 9 km/h (5.6 mph), then 18 km/h (11.2 mph), and finally on the third gear, 25 km/h (15.5 mph) — so, roughly 5, 10, and 15 mph.
In the end, my neighbor, two friends, and I loved the scooter so much for its range, power, weight, and price, we all purchased one from Amazon when it went on sale a few months after the test vehicle was sent back to the manufacturer.
What's Good? What's Bad?
Pros
Strong acceleration with a powerful, brushless DC motor

Nominal (average) power: 500W. Rated (maximum) power: 580W

Higher than most scooters in its weight or range
Input power from the battery: 580W – 599W (720W theoretical)

German motor is, according to Joyor, capable of 23.6 mph, but is safety-limited to 15.5 mph by U.S. law

I did not look into how to bypass that limit as going faster would result in a ticket anyway and increase the risk of injury [UPDATE: Reader, "Scooter Savior", provided instructions in the comments. I have added them and additional information to this review.]
When going downhill, it does go as fast as 20 mph due to gravity assist

Satisfying sound coming from the electric motor

Great range and good battery life

Manufacturer claims up to 31 miles (or 40.3 mi under "specific conditions", whatever that entails)
In my testing, I reached 24 km (14.9 mi) with 40% remaining in about 1.5 hours — this was with two persons riding. Undoubtedly, the extra weight strained the motor and resulted in a driving range of 24.83 mi (14.9 / 60% used)

 In another test, I rode solo for 46 km (28.9 mi) with roughly 25% remaining. That resulted in a 38.53 mi range (28.9 / 75% used)
Before I knew about California law restricting motorized scooters, I cautiously test rode with my 35 lb son on mostly flat sidewalks (with some gradual inclines/declines) for long stretches throughout the neighborhood and parks

Lithium Polymer battery is rated for 480 Wh (10,000 mAh / 1000 x 48V)

Because the motor does not run at a constant 500W, the battery can last for at least an hour (2-3 hours max) under average load
Made with top-tier Samsung 18650 battery cells
These types of batteries have an average lifespan of 500 cycles and can go as high as 600+

Joyor claims quick charging within 7 hours, but it took me about 6 hours

AC power supply is 54.6V at 2A = 110W
Made with top-tier Samsung 18650 battery cells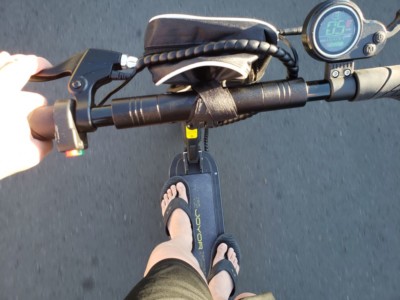 At 33 lbs, is less expensive than brand names for scooters of similar range and weight
Folds fairly flat via 3 points — more so than Segways

Can be carried single-handed by the neck, but because it does not lock in place, the base swivels around
Handlebars are collapsible. When extending, an audible click can be heard
Neck is height adjustable and folded by lever
Dimensions when folded: 42.5″ L x 15″ H. Unfolded stands at 42.5″ L x 46.5″ H x 21.25″ W

Smooth shifting between gears (1 is lowest, 3 is highest) by pressing the "M" button

Max speed for the three gears is 9 km/h (5.6 mph), 18 km/h (11.2 mph), and 25 km/h (15.5 mph) — so, roughly 5, 10, and 15 mph

Rear disc brake for faster, more reliable and controlled braking

Anti-lock braking system (ABS), though I did not dare to test hard braking to confirm

Readable display in bright sunlight

Covered USB port underneath display for charging mobile devices

Material feels strong and well-made. Joyor mentioned "aerospace-grade magnesium"
10″ shock-absorbing, rubber-elastic, pneumatic air tires (10 x 2.25 tube)

Uses Schrader valve with recommended pressure of 36 psi
Larger tires generally offer better comfort and stability
Accommodates a rider up to a whopping 265 lbs
Head and Tail lights

Lights turned on with the Red button on the left handle bar
Head: Can be adjusted left, right, up, and down. They are not very bright, however
Tail: Like a car, it is dimly lit in red when lights are turned on, and brightens when braking. It also illuminates when the lights are off

Built-in, electronic horn that's activated with the Green button on the left handle bar
Built-in kickstand
Water resistant to IPX4

Manual or manufacturer website does not mention water resistance rating, but was confirmed with Joyor support
IPX4 allows water splashes from any angle and so can be used in light rain
Manual asks to avoid water deeper than 1″

Cruise control

Activated by holding the acceleration at the same pressure for 3 seconds (can be enabled/disabled)
Not recommended for above 15.5 mph

Configurable safety feature that prevents motor from starting when tires are not moving
Battery can be swapped, but manufacturer does not have any available for purchase yet nor have instructions on how to change
Ability to add an optional seat towards the rear of the board (there are 4 screw holes available)
Arrived fully assembled

Exception: One friend had a missing screw that she re-inserted at the rear. The others had no issues

Available in black or white color
Multiple accessories unexpectedly included

Scooter carry bag
Accessory bag with external, mesh pocket
Cell phone holder
Hexagon wrench set
Mini pump with multiple valves

1 year warranty with 6 months on battery
Cons
Speed capped at 15.5 mph (25 km/h) to comply with US regulation, although motor is capable of going as fast as 23.6 mph

Sometimes, I wish I could ride faster, but have to remind myself that the limit is for my safety

When folded, scooter can be carried by the neck, but because it cannot be locked, the base swivels
Headlight is not very bright despite manufacturer claiming an "ultra-bright 1.1W… with a range of up to 20 m" (65.6′)
Gear can only be shifted in sequence, not up and down

Shifting cycles through 1, 2, 3, 1, 2, 3, etc

LCD came in metric units (km/h and km), but can be configured to show miles and mph. See TIPS section

Display unit is exposed on the handlebar. In a crash, the controller may become damaged

Some scooter manufacturers integrate their LCDs at the center of the handlebar instead for a more sleek look

Pumping the 10″ wheels with a full-sized bike pump is frustrating: there is not much space between the rim and the tire valve

Takes effort to connect/disconnect the pump

Only basic instructions included on how to operate the scooter

Does not cover the programmable modes of the LCD display. I was able to get that information from the manufacturer and provided it in the TIPS section

Wiring is exposed externally instead of going through the vertical neck post for a more sleek look
Manual nor manufacturer website mentioned whether scooter is water resistant (riding in rain) or waterproof (accidentally falling into water)

Joyor support confirmed IPX4 water resistance upon inquiry (ok to use in light rain)

Can add to weight gain when not exercising enough
Shipping box arrived partially punctured during transport, but scooter was fine
Tips
Maintenance
Before first use, fully charge the battery

Covered charging port is on the front left of the board
AC charging brick LED: Red = Charging. Green = Full
Lithium Ion batteries are known to be volatile and could catch on fire

Do not charge overnight or unsupervised for prolonged periods of time. Stop charging once full
Do not leave the scooter in full sun or below freezing

Keep battery charged at 50% or more to prolong battery's 500+ cycle lifespan. Try to never let it drain completely

Before riding, check the tire pressure (36 psi) and tighten any loose screws

Be sure to lock (audible click) the neck into place when unfolding
Operation
Do not brake hard. Doing so could make you painfully tumble, scooter skid, and/or wear out the tires

Be aware of unexpected obstacles. I tumbled once at roughly 5 mph when transitioning from grass to concrete. It was not fun

Turn on/off: Long-press Power button

Pedal the scooter forward a bit, then gently push on the accelerator lever to start moving

By default (and for safety), motor will not start when scooter is not in motion

Acceleration is based on the amount of pressure you (should gradually) apply on the accelerator lever

I found the most stability (especially when turning) by putting one foot pointing forward and the other at 45 degrees to the side
As battery neared empty, I noticed that maximum speed gradually lowered

When it was almost fully empty, speed dropped to 9 mph, and eventually error code "E-005" (Undervoltage protection) displayed on the LCD. You could still power off and back on to get a few more feet of driving in, but doing so will shorten the battery's lifespan

When folding the scooter, watch out for your head. The handlebar came crashing onto mine the first time
Joyor states that the scooter is designed for only 1 rider. California law does prohibit having a passenger
Display Options
When the scooter is powered on, the Odometer is displayed. Push the Power button to cycle through the following screens:
Odometer
Trip meter
Seconds elapsed since power on
Error code. (E-000 = Everything normal)
Amperage. (ie. A-000)
Voltage (ie. U-50.2)
Locking Against Theft
The small, 10″ wheels and lack of places on the frame to secure with a heavy-duty bicycle lock makes the scooter a bit inconvenient to secure against theft. I would protect it as follows:
Front wheel: Loop a heavy-duty cable through the frame holding the tire and in-between the spokes
Back wheel: Secure with a disc brake lock (or) a heavy-duty, thinner cable in-between the spokes
Fasten the cable(s) to an immovable object. Don't lose the keys or combination!
Aircraft Transportation
Most, if not all, airlines prohibit electronic scooters that do not meet specific criteria. United Airlines, for example, allows collapsible ones whose battery is both removable and below 300 Wh. Southwest Airlines is more restrictive at 160 Wh. This scooter's battery is 480 Wh. Lithium-ion batteries are known to be volatile, and the higher their capacity, the more risky they are. Check with the airlines, TSA, and FAA for more details.
Programming Scooter
The LCD displays the current speed and odometer in kilometers and km/h. Immediately, I wanted to know how to switch it to imperial units and reached out to Joyor support. It took a few days of back and forth translations (with a Chinese-speaking friend) to summarize each code presented for your reference here. It should be noted that the manufacturer discourages changing any settings because improper use could cause unintended consequences and injury and may void the warranty.
To enter programming mode: Hold the Power and M buttons together for a few seconds. Cycle through the options by pushing Power. Push M to edit the option, and move up or down with M or Power, respectively. Hold Power and M together to accept the setting.
Program Options
Here are the various options that can be programmed. Some are reserved for engineering and should not be modified as they could cause "systematic failure".
PROGRAM AT YOUR OWN RISK!
P02: Unit display. 0 = kilometers (km/h), 1 = miles (mph). Default: 0
P04: Idle time to enter sleep mode. 1-60 minutes. 0 = Do not sleep. Default: 3
P06: Do not modify. Wheel diameter (in inches). Accuracy: 0.1″. Default: 10
P07: Do not modify. Number of magnetic steel for velocity measurement (1-100). Default: 31
P08: Do not modify. Hidden setting to set the maximum speed the scooter can go

Joyor would not share how to configure this out of their concern for your safety. It also is illegal to go over 15 mph in California

P09: Motor startup. 0 = Can start without movement, 1 = Can only start when scooter is moving. Default: 1
P12: Do not modify. Starting torque. 0-5 strength (5 is strongest). Default: 5
P15: Maximum percentage of speed limit (set by P08) the motor can output. 100 = Full speed. Default: 100%

For example, if the scooter's maximum speed is 15 mph, and P15 is set to 50%, then it can only go up to 7.5 mph (15 x 50%)

P16: Cruise control. 0 = Disabled, 1 = Enabled. Default: 0
P17: LCD backlight. 1 = Disabled, 0 = Enabled. Default: 0
P99: Factory reset. Hold M button for 5-6 seconds to reset all settings
d0: Odometer reset. Hold M button for 5-6 seconds to reset Odometer reading
Error Codes
If an error occurs, a code will be shown on the display.
E-000: No error. Normal operation
E-001: Motor failure
E-002: Turn handle failure (May refer to Throttle/Accelerator, but could not confirm with Joyor)
E-003: Controller failure
E-004: Handle fails activating brake, such as from loose or damaged brake cable
E-005: Undervoltage protection, such as from low, empty, or water-damaged battery
E-006: Communication failure. Meter (Display?) not receiving controller output
E-007: Communication failure. Controller not receiving meter (Display?) output
Motorized Scooter Laws
When I was made aware by a friend that there are laws governing the use of motorized scooters, I was sad to see how restrictive they were. I considered myself to be a cautious, responsible, and respectful rider when taking my son out on a slow, controlled ride on the sidewalk with both of us having helmets on, slowing down considerably (to 1-3 mph) and moving to the side when approaching a pedestrian. Like a bike rider, I yielded to people as a matter of respect and courtesy, and constantly checked on and reminded my son to stand solid and to hang on tight. Any potential obstacles were avoided, turns were made with caution, and as with bike riding, I wanted to stay on the sidewalk whenever possible to keep the little one safe and away from speeding cars. The point is, courtesy, caution, and riding alert go a long way in being safe, in my opinion.
With that said, I read that there were a number of accidents involving scooters hitting pedestrians or riders hurting themselves. I get it. Laws are there to protect people from each other and themselves, especially from irresponsible individuals. Luckily, when a police officer drove past on the third day of test riding, he did not stop and ticket for scooting on the sidewalk with my son.
Sample Regulation: California
California Vehicle Code (CVC) in January 2005 enacted Article 5, Sections 21220-23330, to govern the operation of a motorized scooter. It was subsequently amended with additional rules and clarifications. Keep in mind that Federal, State, and local city ordinances may differ.
Disclaimer: I AM NOT A LAWYER. Please consult your local city, police department, and/or legal professional for advice.
A "motor scooter" is defined as "any two-wheeled device that has handlebars, has a floorboard that is designed to be stood upon when riding, and is powered by an electric [or any other power source] motor. This device may also have a driver seat that does not interfere with the ability of the rider to stand and ride and may also be designed to be powered by human propulsion." This excludes motorcycles and motorized bikes. Interestingly, how would this law apply to three-wheeled scooters?
The following is my interpretation of how I understand the law.
Must ride with a Driver's License or Instruction Permit

Riders are expected to know and follow all basic traffic rules since they are sharing the road with cars
Scooter does not need vehicle insurance, license plate, or be registered with the DMV

Must wear a

bike

(not roller blade or skateboard) helmet if under 16 years of age
Don't ride on a sidewalk unless necessary to enter or leave an adjacent property
Don't ride with another passenger
Don't carry something that prevents keeping at least 1 hand on the handlebars
Don't ride with the handlebars up so high, the hands are above the shoulders
Maximum scooter speed: 15 mph, regardless of any higher-posted speed limits
Can't ride on a street whose speed limit is higher than 25 mph unless there is a bike lane to be in

HELP: Anybody know what your options are when there is no bike lane available on those fast streets?

Is the only option to WALK the scooter on the sidewalk? Can you manually PEDAL it (with motor off)?
Are scooters even allowed to be WALKED on the sidewalk?

If riding slower than the normal speed of traffic moving in the same direction, move as close to the right-hand side of the road as possible

Take the bike lane, if one exists, unless local regulations don't allow it

May ride on a bike path/trail/lane unless local law prohibits it

Can't ride in a park unless there is a bike lane available and local law allows it
When making a left turn, go as close to the right-hand side as possible, stop, get off scooter, and walk across the road like pedestrians
Driving at night requires:

Headlight visible from 300′
Red tail reflector visible from 500′
White or yellow side reflectors visible from 200′

Don't ride under the influence
Don't leave scooter on its side on any sidewalk (or in any other position) that blocks pedestrians
Can't attach scooter or rider to another car
Must have a brake
Manufacturer "shall" disclose to buyers that buyers' existing insurance may not provide coverage for accidents involving the use of the scooter
I read on some lawyers' websites that if you get into a scooter accident on a sidewalk, you are basically guilty.
Top Speed: 28 mph?
The scooter's maximum speed, as it turns out, is 28 mph for my unit. Reader, "Scooter Savior", left instructions in the comments on how to remove the speed limit, but be warned: going over 15 mph not only is illegal, it also is very dangerous! 10″ tires do not afford much protection and stability on a sudden stop. Case in point: a friend crashed at 18 mph and severely got hurt!
Removing the speed limiter may also cause your scooter's motor to die faster. For instance, one of the readers informed me that he rode 480 miles on normal, then over 500 more after removing the speed limit and often being at top speed. He found some wires melted and the motor now sounding like a stuttering motorcycle.
WARNING: BEFORE you consider removing the speed limit…
Ask yourself whether it is worth the potential hurt, monetary fines (and/or jail time), and damage the higher speed could inflict? Could you live with yourself if you accidentally cause someone to be hurt so badly, he or she could no longer walk or even die? What if YOU could no longer move around? Furthermore, an increase in eScooter and eBike deaths and injuries has been observed in recent times.
How To Remove Speed Limit
Proceed at your own risk: Removing the speed limit is not only illegal, it also is very dangerous for yourself and to other people! It may also kill your motor faster over time and possibly overheat some wires.
To remove the limiter, locate the blue wire found within the black, plastic, coil wrapper coming out of the front-right corner of the scooter platform. "Scooter Savior" mentioned that there appeared to be two, blue wires, but that it actually is just one "looped" around. Cut that cable.
In testing, the following maximums were observed: Gear 1 @ 10 mph, Gear 2 @ 20 mph, Gear 3 @ 28 mph. Keep in mind that the motor could now engage at full speed with an adverse effect on battery life and temperature control.
The next thought was how to enable/disable the limiter through a toggle switch that would connect/disconnect the blue wire, and these two products came to mind:
Be sure to seal the wire with some electrical tape and tug it back underneath the protective coil.
Programmatically Set Top Speed
You could limit the top speed programmatically. This method is much preferred over using an on/off toggle as it would prevent you from accidentally enabling/disabling the speed limiter during a ride.
In the PROGRAM OPTIONS section, I mentioned that the P08 and P15 settings control how fast the eScooter could go. P08 is a hidden setting that would set the maximum speed, but unfortunately, I was not able to find information on how to access it. P15, on the other hand, can control the maximum as a percentage of the overall speed.
If you have removed the speed limiter, the maximum speed is 28 mph for my unit. Setting P15 resulted in the following top speeds:
P15 = 50% | Gear 1 @ 4 mph / Gear 2 @ 8 mph / Gear 3 @ 13 mph
P15 = 63% | Gear 1 @ 5 mph / Gear 2 @ 11 mph / Gear 3 @ 18 mph
The P15 setting of 63% most closely matches the original defaults with the speed limiter enabled.
Final Thoughts
Riding the scooter and exploring has been so much fun! The thrill and freedom felt while zipping around on the board with speeds up to 15 mph reminded me of snowboarding up and down the mountains. However, despite what I felt was respectful, responsible, alert, and cautious riding with my passenger son on sidewalks, he and I were both saddened to learn that doing so was illegal. Perhaps we have poor, irresponsible riders to thank for the restrictive regulations governing motor scooters, but it is what it is.
The Joyor X5S, with its comparatively light weight, powerful motor, and long range, makes for a great scooter that costs slightly less than most competitors with similar models. It folds compact for one-handed carry, though without a locking mechanism, the base board swivels around that requires firming up your grip. Its construction appears and feels solid, and with the right stance and balance, I felt in control the entire time.
Two of my friends (one of whom owned a Segway Ninebot scooter) and a neighbor liked the Joyor in their own ways and ended up purchasing the X5S, too. Hopefully, the COVID-19 pandemic will be under control soon so we could ride together, but in the meantime, we are going to enjoy switching between biking and scooting when out and about.
Where To Buy
Related Reviews