Action Air Inflatable Bounce House (9451)
$199.99
Pros
Great value over rentals
Fast setup and inflation
Perfect size for 2-3 children
Quality material
Well-written manual
Cons
High, initial investment cost
May be too small for larger groups
Bounce houses require constant supervision
Air blower uses a lot of power
Read:
4
mins.
Bouncy Fun!
Our daughter's birthday was fast approaching and with the ability to only hold a small gathering in our backyard, we looked for something fun for the children to play with.
"What's synonymous with some birthday parties," my wife asked? A bounce house! But at a rental cost of $75 – $99 a day, we decided to invest in a small one instead for repeated use at home.
That search led us to the $200 Action Air Inflatable Castle Bounce House.
What's Good? What's Bad?
Pros
Feels and looks sturdy and well made

Made of oxford cloth, though I could not find its density rating. It most likely is 800D and 420D

Kids had GREAT fun playing in it
Slide entrance/exit

Mesh netting on all sides keeps children safely inside

Very easy to set up

Inflates quickly (within 30 seconds!)
Deflates quickly (within 4 minutes) and folds fairly compact

More economical than rentals because you would own it after 2-3 uses
Air blower included ($100 value)

Electric plug has a GFCI circuit breaker to shut off power in a ground-fault event, but you should keep the blower away from anything that could catch on fire or get it wet
Rated at 115V (3.2A) = 368W

Blower can be operated off a battery power station

Using about 320W – 370W, bouncer could last for approximately:

Perfect size for 2-3 kids (manual recommends ages 3-10)

Maximum weight capacity: 250 lbs
Dimensions: 9.4′ L x 7.2′ W x 5.4′ H

Weight: about 28 lbs (bouncer and air blower combined)

Can be used indoor and outdoor, though our house is not nearly big enough to hold it

Grassy/soft area is recommended, but if used on concrete, be sure to remove any sharp objects that could potentially puncture the bouncer
Caution: Be mindful that the bounce house should be staked down to prevent tipping!

Storage net underneath the Dart target
Storage bag for the bounce house is included, though not for the air blower
Included

4 smaller stakes for the air blower
4 larger stakes to hold down the bouncy house
Repair kit
Two velcro balls for the exterior Dart target

Manual was easy to understand
Cons
Initial investment is pricey
May be too small for larger groups of children (can only safely accommodate 2-3 at a time)
Requires constant, adult supervision so children play responsibly and bouncer would not fail in a serious way
Air blower uses a lot of power at 320W – 370W
Tips
Always stake down these parts:

Bounce house so it would not tip over or get easily blown away by strong gusts of wind

Children pinned under a bounce house could suffocate and be seriously injured (or worse!)

Air blower so it would not overturn and overheat

Blower must continuously be running. Bouncer's seams will let small amounts of air out to ensure it would not overinflate
WARNING: Always, always, always stake down the bounce house and air blower to minimize risk of serious injury!
Supervise children at ALL times

A bounce house could cause serious injury!
Caution: Do NOT let children play in the bouncer when it is not fully inflated

Have children take their shoes off when playing in the bounce house
Good As Rental?
A question I am commonly asked is whether this bounce house can be used to rent out. Short answer: No.
This bounce house is made of heavy-duty oxford cloth that makes it lighter. However, if the cloth rips, it may not be repairable even though some of the better products are reinforced with 600D nylon or PVC. The higher the oxford cloth density rating, the more durable it is. Commercial-grade bounce houses use heavy-duty PVC vinyl that makes them waterproof, less resistant to tearing, but are much heavier, difficult to set up, and put away.
Setup
Sweep the area for any sharp objects
Unfold the bounce house over a flat ground
Attach the yellow hose to the air blower and ensure it is velcroed tight

Check that blower has sufficient clearance all around it

Keep it away from anything that could catch on fire or get it wet

Secure the blower with the 4 smaller stakes

Plug in the blower and turn it on

Ensure the yellow hose has no kinks (having it be straight will ensure maximum air flow)

Once the bouncer has fully inflated (takes about 30 seconds), secure it with the 4 larger stakes
Let the blower run continuously
Bouncer will let small amounts of air out to ensure it would not overinflate
Teardown
Ensure no children are still in the bounce house

Double check this! Kids pinned inside/under a bouncer could suffocate to death!

Turn off the air blower and unplug it from the AC outlet
Bouncer will deflate on its own within minutes
Untie the yellow hose from the blower
Fold the bouncer in half, squeezing any remaining air out

Fold in half again and again
Roll it into the included carry bag

Clean the stakes
Tip: Bounce house must be fully deflated, rolled up tightly, and tied in order for it to fit in the included carry bag. Never store away damp as that can lead to mildew — Ensure bounce house is completely dry!
Final Thoughts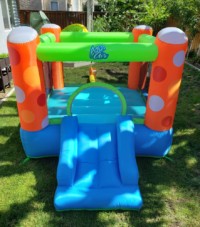 The Action Air bounce house has been a great investment from both a financial and joy perspective! Its dimensions fit our backyard perfectly, and seeing the children enjoy themselves during this pandemic has helped bring some normalcy into their lives when playgrounds all have been shut down for some time. Equally important is that the bouncer folds quite compact and does not use up much space in our garage.
Ultimately, what made my day was when our son came up to me and said, "I love you, papa." My wife and I were both pleased with this bounce house and look forward to having the birthday girl play in it too when she is old enough.
Where To Buy
Other Bounce Houses We Had Considered
Related Reviews