Vastar Mini Electric Air Pump (BP198)
$49.99
Pros
Portable and compact
Automatic stop at target pressure
Support for up to 120 psi
Professional-looking
Built-in LED flashlight
Cons
No USB charging of mobile devices
Terrible manufacturer website
Electronics could fail when you need it most
Loud pump
Read:
4
mins.
Portable Convenience
A tire can run flat at any time while biking, riding a scooter, or driving a car. For that reason, I have an $80 electric pump in my car's trunk that operates off the cigarette lighter plug, and a tall hand pump for bicycles that is inconvenient to pack into the backpack. One day, I came across an advertisement for this Vastar electric air pump — a small, ELECTRIC pump! Intriguing. I never knew compact ones like these existed! Naturally, I purchased one to see how it would do.
In a Nutshell
The awkwardly named Vastar Portable Air Compressor Mini Tire Pump (BP198) — which I shall simply refer to as "Mini Electric Air Pump" — is a professional-looking, battery operated air pump for inflating tires of cars, motorcycles, scooters, and bikes. An attachment for balls is also included. It is quite easy to operate with an Apple iPod-like click wheel interface, has a built-in LED light, and automatically stops pumping at a pre-set pressure. It surprisingly inflated fast for both Schrader and Presta valves, and I did not have to break a single drop of sweat.
The biggest concern with the company, however, is how poorly designed their (unsecured) website is with its mix of English, Spanish, and Chinese languages across their product portfolio. In fact, I had such a hard time trying to find information on this air pump, I gave up after ten minutes. With that said, their website lists an unconditional 45-day refund or replacement policy with an 18-month warranty on their products. Customer service is seemingly handled by email only.
What's Good? What's Bad?
Pros
Compact and light at 1.5″ x 2.4″ x 6″ and 12 oz
Professional looking
Quick inflation and deflation
Built-in 0.5W LED light
USB-C rechargeable, 14.4 Wh lithium battery (7.2V @ 2A)

Recommended input of 5V @ 2A
Takes 2.5 – 4.5 hours to charge
Automatic idle power off after 3 mins
USB-A to USB-C cable included

Multiple valves included

Schrader (built into the flexible hose)
Presta (screw on top of the Schrader)
Ball needle
Valve for swimming pools and air mattresses
Five operation modes with last-used pressure memory

Small cars (will not work with larger cars, including SUVs, trucks, and buses)
Motorcycles
Bicycles
Balls
Custom (symbolized with a human figure)

Current pressure display
Automatic stop at desired pressure
Support for multiple measurement units: PSI, BAR, kPa, Kg/cm2
Carry pouch included
Cons
Could leave you stranded if the battery fails and you do not have a backup pump available
USB-C port cannot be used to recharge my Samsung Galaxy S9+ (via USB-C to USB-C cable) despite manual stating "USB output: 5V / 1.5A"
USB charger is not included
For safety reasons, pump cannot be used while charging
Not powerful enough for mid- to large-sized cars
Not waterproof and should be protected when used in rain
Needs to be recharged every 2 weeks to maintain optimal battery level
Pump is loud (80-85 dB)
No valve included for pumping inflatable stand up paddle boards (iSUP)
Terrible manufacturer website
Tips
Usage
Power on/off: Long-press Middle button for 3 seconds. Repeat to turn off
Mode: Cycle with Bottom button
Display unit: Cycle with Top button
Target pressure: Use "+" and "-" buttons

Top number shows CURRENT pressure of the tire

When pump is NOT connected to anything, this number should be zero (0)
Number may change with changes in altitude and other factors
If nothing is connected, and the number is NOT zero (0), simultaneously hold the "+" and "-" keys for 3 seconds to reset

Bottom number shows TARGET pressure to inflate to

Start/Stop inflation: Briefly press Middle button

Use continuously for up to 10 mins. Let cool for 3 mins before using again

Deflate air: Press side button on pump's left side
Release flexible hose: Press button on the bottom of pump, then pull hose out from its storage at the top
Flashlight on/off: Long-press Up button
Battery Level and Charging
When battery is charging, the battery indicator will blink. When it becomes a solid green, it is fully charged. Battery levels are as follows:
Green = 60-100%
Yellow = 30-60%
Red = 10-30%
Default Pressure Reference
The following are defaults set by Vastar (and ranges) for each mode. Adjust the numbers according to the tire's manual, although nearly every tire has the required PSI/BAR rating printed on its side.
Car tire: 35 psi (0-65 psi)

Recommended pressure can also be found on the sticker on the driver's side door frame

Motorcycle tire: 40 psi (0-55 psi)
Bicycle tire: 38 psi (0-120 psi)
Ball: 8psi (0-15psi)
Final Thoughts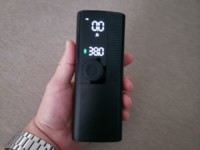 After pumping multiple bike tires by hand, especially those requiring a high amount of pressure with nothing but a mini pump, one could get quite exhausted and frustrated. For that reason, I had always carried a heavy-duty foot or hand pump with me. But having a single, electric gadget that can quickly and effortlessly pump bikes, small cars, balls, scooters, and motorcycles, however, is very convenient. One of the biggest drawbacks with the product is the inability to use its built-in battery to charge mobile devices via a USB interface. Nonetheless, this mini pump is very useful to have, but be sure to take a backup pump with you since electronics could fail unexpectedly.
Where To Buy