Read:
12
mins.
Restaurant Delivery Services
With the COVID-19 pandemic wreaking havoc with restaurants throughout the nation, food, grocery, and meal prep delivery services have increased in popularity, such as Uber Eats, Postmates, Door Dash, and Grubhub. Likewise, ChowNow and other services that help restaurants take orders with lower fees have also gained prominence as businesses try to find ways to maximize their profit margin to survive and avoid bankruptcy.
Grubhub is one of the leading food delivery services and has established a partnership with Yelp, the most popular, crowd-sourced, business review service in the United States. I tried out Grubhub for two months, and what I learned was rather shocking.
Yelp
Before diving into Grubhub, allow me to share some background about the 16-year-old business review service and its dominance in the industry. Businesses can be made or broken by word-of-mouth. Suffer enough bad reviews, whether justified, truthful, or not, a restaurant may never be able to recover and be forced to shut down. I saw first-hand how my parents' donut shop had experienced a prolonged period of slower-than-normal traffic, and as positive reviews trickled in, more customers came to seek out what there was to like about the bakery. Monthly reports from Yelp and Google confirmed how many consumers sought out places based on their online reputation scores. On the flip side, too many positive reviews could overwhelm an unprepared establishment.
Between November 2010 and 2017, I once was an avid contributor to Yelp in an effort to objectively and helpfully share my experiences, earning the "Yelp Elite" badge in 2012, 2013, and 2014. During that time, Yelp also made plenty of news about using its influence in an attempt to force businesses to subscribe to their services. My parents' donut shop, too, was harassed multiple times. Buy some services or risk having negative reviews or competitors' ads appear on your business's Yelp listing — or having positive ones "hidden" from view.
I eventually stopped contributing to Yelp after the company decided to remove my "Yelp Elite" badge in 2014 for having a business listing of my own, citing potential conflict of interest. They could never explain why having my yuenStudios photography business listed on Yelp would affect my ability to objectively share my experiences of others.
As the leading, crowd-sourced review service, Yelp had and has some heavy muscles it could flex to try to bend businesses to their will.
Grubhub
As the COVID-19 pandemic started ravishing the country, my family had used Uber Eats, Postmates, Door Dash, and Grubhub to have food delivered to our home. My wife used Door Dash through a promotion for Chase credit card holders, and I went with Grubhub in May 2020. One should note that Yelp has partnered with the delivery service for exclusive fulfillment.
Ordering Process
Having food delivered was simple. Go to the Grubhub or Yelp website or use their mobile apps, look for a restaurant, select menu items and delivery date/time, specify amount to tip the driver, add an optional instruction (such as "No utensils. Leave order by the door and ring bell"), pay, and wait.
Delivery Process
When the order is placed and confirmed by the restaurant, a Grubhub driver would be assigned for delivery. You could see where he or she was at any given time in relation to the restaurant and your home. Once the driver arrived at your home, the order would generally be left at the door with a text message that delivery was complete. There was no physical interaction if you did not want any.
Grubhub Issues
After two months of using Grubhub and placing 14 orders that ranged between $60 – $174 — we liked buying multiple meals' worth — we ran into a few issues, but thankfully, Grubhub customer service took care of us. That is, until I dug deeper.
Delivery Issues
First Delivery Problem
A driver drove to the beach instead of picking up the order from a sushi restaurant. I watched in disbelief how his car literally drove in the wrong direction, and after being late for 45 minutes and not responding to my calls, I asked Grubhub customer service to re-assign the order to someone else. We received our lunch 70 minutes from the scheduled delivery time — Sushi is best enjoyed fresh. Grubhub offered to refund the entire order, but I asked for only 30% back since we ate the (at times slimy) food after all.
Second Delivery Problem
For our second issue, a driver drove around the restaurant for around 30 minutes. Was he lost? The business was literally just a block or two away from where he was at. Grubhub customer service was contacted to ask what was going on. Drivers operate independently and the company has little to no control over their service levels, I learned. Sometimes, restaurants do not yet have the order ready, adding to delivery delays. Sure, that was understandable.
The representative tried to reach out to the driver to no avail. Suddenly, he was no longer assigned, and I waited to see what would be offered next while remembering the previous time a driver decided to go to the beach.
"It was a pleasure to help you! Thanks for chatting, please be sure to rate this chat once this interaction has ended within the chat box. Have a great day!" Representative abruptly left the chat.
Excuse me. What about the food? I was connected with another service agent who arranged for a new driver.
The family became increasingly hungry and the original delivery time had already elapsed by over half an hour. Finally, our order arrived — about 80 or 90 minutes later than originally requested — but we tipped the new driver an additional $10 in cash. We knew that the fried and baked dishes would be soggy by then, and in an attempt to salvage the cold, sometimes mushy food, we tried to re-bake some of the items as they would not taste good otherwise. Mission failed: my son and wife did not enjoy the main course (the most expensive dish) at all.
After dinner, I contacted Grubhub, described the disappointing experience, and asked for a partial refund for some of the baked/fried items. I shared that it was upsetting that there now had been two drivers who simply decided not to fulfill their deliveries. She insisted that she would refund the whole order and took responsibility for the problems experienced. The full amount. Grubhub got us covered for the mistakes. That was unnecessarily nice of her, I thought, and what great customer service! The driver STILL got his tip in addition to the $10 cash, right? Or so I thought.
Refunds: Who Foots The Bill?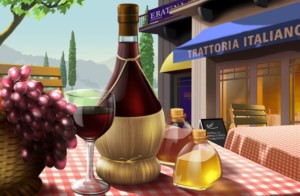 Out of curiosity, I wanted to know whose pockets the refunds came out of when Grubhub or its drivers made a mistake (like delivering an order over an hour late.) Obviously, Grubhub, right?! That may not be the case. According to orders2.me, the restaurant would likely have the refund silently deducted from their payouts without any way to dispute the chargeback. The RESTAURANT was penalized for Grubhub's drivers not doing what they were contracted to do? We instantly felt bad! If the story by orders2.me was true (with no ulterior motive to sell their own restaurant fulfillment services), Grubhub's tactics reminded me of Yelp's earlier years. Restaurants depend on delivery services during the COVID-19 pandemic and have no choice but to keep using them, even if treated unfairly.
How about the driver who brought the order as quickly as he could following the second delivery issue we had? The one we gave a $10 cash tip to? He probably never got the other tip. Had we not given him cash, he may not have received anything for his time and fuel.
If the story by orders2.me is true, then Grubhub, behind a friendly, consumer-facing smile, issued a full refund that ultimately hurt the restaurant and the driver.
Deceptive Grubhub+ Terms
During the two months I tried Grubhub, I had also signed up for the Grubhub+ (GH+) $9.99/month membership which promised free deliveries, discounts, enhanced customer service, and other perks, including a time-limited one: Cashback Rewards.
For every $100 spent, you would earn $10 in cashback, which was enough to cover the GH+ monthly fee. The Cashback would continue to accrue for every $100 milestone. By the end of the second month, I was ready to pause the GH+ membership by setting it to NOT auto-renew on July 7, 2020. There was $10 cashback remaining that I planned to use later.
On July 14, the $10 Rewards balance was nowhere to be found. What happened? As it turned out, it was voided without any notification. Customer service explained that Cashback Rewards were for a limited time and the promotion was no longer offered. Okay, but where was the $10 credit?
It became null and void on the day the GH+ membership ended. "In the confirmation mail of the membership cancellation, you'll find the details", she said. Let's take a closer look at said email:
Rewards Expiration: "Cashback Rewards expire within 90 days following the date user's most recent Cashback Rewards is issued."
I pointed out to her that the email stated: "Cashback Rewards expire within 90 days following the date user's most recent Cashback Rewards is issued."
She replied with a link for additional details to look at: "Grubhub+ membership". There was nothing there about losing your Cashback Rewards upon cancellation, except perhaps by this vague wording: "If you cancel, your membership benefits will continue through the end of the current billing cycle." I understood that to mean no more free deliveries, discounts, perks, or ADDITIONAL cashback reward accumulation at the end of the billing cycle.
She abruptly left the chat after thanking me for contacting customer service.
I scrutinized the cancellation email further and found this line at the end: "See Grubhub+ cancellation and refund policy and full terms at https://lp.grubhub.com/legal/plus". Scrolled down to the "Limited-Time Membership Benefits" section where it stated in BOLD, UPPERCASE LETTERS:
Terms: "UNLESS OTHERWISE INDICATED BY GRUBHUB, ALL GRUBHUB+ REWARDS WILL EXPIRE IF YOU HAVE NOT EARNED ANY GRUBHUB+ REWARDS WITHIN NINETY (90) DAYS FOLLOWING THE DATE OF YOUR MOST RECENT GRUBHUB+ REWARD."
There we had it again. Expiration was 90 days after the most recent cashback reward!
Contacted customer service again and asked for a $10 credit to be applied to the account. She would not oblige and escalated to another representative instead. That new GH agent pointed towards the full terms and the very LAST sentence of the "Limited-Time Membership Benefits" section: "In the event your Grubhub+ membership is terminated,… all accrued Grubhub+ Rewards will be void…"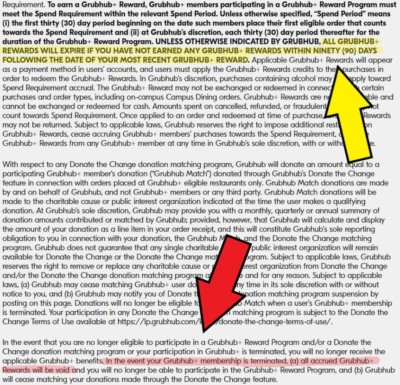 Excuse me? Have you ever read consumer terms, license agreements, and legal documents (such as leases)? When something could negatively impact a consumer, that section generally is highlighted in BOLD and/or UPPERCASE letters. As illustrated above, the BOLD, UPPERCASE letters stated an expiration date of 90 days, but the very last sentence would casually state that "all accrued Grubhub+ Rewards [would] be void" upon membership termination. Bravo, Grubhub, for hiding that small detail from the cancellation email and deep within the full Terms of Use on their website. Their lawyers ought to be proud of themselves.
Needless to say, the company was willing to lose a customer over $10 despite my pointing out that at no step during the cancellation process, nor in the confirmation email, was there a mention of cashback rewards getting voided before 90 days. Remember, both the cancellation email and the terms clearly stated in BOLD LETTERS that Rewards would expire in 90 days… until you read a casual sentence… at the very bottom. The "fineprint".
How Restaurants Are Affected
Businesses pay a referral fee of between 15-30% for any customer sent by the delivery services, according to a NY Times article, prompting restaurants to either absorb that cost or pass the expense on to their diners by raising prices. Some customers take offense to the increased prices for a variety of reasons that I will not get into in this article. The point is, you may find price differences between delivery, take-out, and in-person orders. A few of my restaurant-owning friends, including one in Torrance, California, confirmed that they get charged just by having someone call through the GH or Yelp apps to ask for directions. Some delivery services also have better business practices that are more business friendly. It will be up to you to decide how you want to support your local establishments by choosing the ordering method that works for you.
Tip: Call the restaurants directly to place your orders or make inquiries. Doing so will help them keep the fees charged by the delivery services for the referrals.
Stories abound on how some restaurants barely break even after all fees: Eater, Los Angeles Times, and The New Yorker.
The Sale
In an amusing story on The Verge, a New York pizzeria owner took advantage of a DoorDash pricing error to make hundreds of dollars in profit all the while exposing some of the tactics these delivery companies use to sell their services to restaurants.
As claimed by the writer, Ranjan Roy, a business's phone number on a Google listing may get hijacked and rerouted to a delivery company's
A delivery service may silently add a restaurant to their list to gauge customer interest, deliver the orders, then present the data to the owners in an effort to have them join

The restaurant may suddenly receive complaints about issues with deliveries while unaware that such service was offered by a third party
My parents, for instance, received numerous emails recently from one of the top companies trying to offer delivery for their donut shop.
July 10: "[I] have received multiple requests this week for [your donut shop]."
July 13: "Many of our restaurant partners have seen their delivery sales increase by up to and in some cases, over 50% since these orders were put in place."
July 15: "As highlighted in my previous emails, [your donut shop] is highly sought out by [service's] customers… I'm confident we'll make your time worthwhile."
"Highly sought out"? That's funny. In the 40 years since the bakery was established, there hardly were requests by individuals to have donuts delivered, even during a COVID-19 shelter-in-place order not too long ago. Unless my parents turned their traditional, mom and pop shop into a boutique one with higher gross margins, it just would not make sense to offer that service.
Just for giggles, I went to the service's website to see how many donut shops in the area were listed. Just two, one of which was temporarily closed for business. (Hint: neither were my parents'.) Curiously, at the very bottom of the menu for both establishments it stated, "Menu prices for this store are estimated. If the amount charged for your items at the store is lower than the amount you were charged at checkout, you'll receive a refund for the difference." Digging deeper about why the prices were estimated, an article mentioned, "Menu prices for unaffiliated merchants… are estimated." Unaffiliated? So, neither business agreed to be on the service.
"Mom, how many customers called about deliveries in the past month?" "Two." I respectfully declined a meeting with the sales representative.
Alternative Services
One way for food establishments to recapture some of the lost revenue is to offer their own ordering app or website, whether developed in-house or through a third party, such as ChowNow (which charges a fixed, monthly fee instead of commissions.) ChowNow explains at OrderBetter.com how delivery-app businesses use predatory tactics that could hurt restaurants.
Here are some articles I found for additional information that may help food establishments:
Thinking out loud, I wondered if offering a discount or other incentives for take-out orders made directly with the restaurant would entice diners to skip delivery services altogether? I also recall a story where a business, instead of doing layoffs, redirected employees to be delivery drivers to keep them employed and to bypass services like Grubhub.
One of the local, Malaysian restaurants has adapted well in offering in-house, contact-less, free deliveries with minimum order amounts, friendly service, and awareness posts to social media, eventually expanding north to Los Angeles and south to San Diego counties. They would post scheduled times and dates for the applicable delivery areas and take orders by Facebook, email, phone calls, and text messages. Payments could be made in traditional ways and by leaving cash outside the door for their driver to pick up.
Tamper-Resistant Packaging
Having a restaurant's own employees deliver could address the fear some have of drivers picking on food and drinks (see here, here, here, and here), a valid concern that drove some restaurants to find creative ways to keep dishes from being violated. For example, Sichuan Impression of Tustin, California, tied and zip-tied their bags in such a way, it would have taken considerable effort for anyone to try and pick pieces of food out. Some others, however, failed miserably by creating a false sense of security, such as Wingstop: slapping on a company-branded tape in an attempt to keep paper bags closed. They were extremely easy peel off and re-attached without anyone noticing.
Update July 21, 2020: California Fish Grill took the crown with its "Tamper-Evident Seal" on a take-out order that could not stop any food from being tampered with. In fact, I was able to remove every single dish from both bags with both seals still fully intact. The bags should have been tied tighter. See photos below.
You cannot just slap on a seal and call it "secure". That is like taping a "Locked" sticker onto a bank's safe while leaving it unlocked. Secure the vault first before TIGHTLY chaining the door handles.
Update August 25, 2020: Jollibee used the same "Secure-It" seal as California Fish Grill, and although one of the bags was difficult to casually open without breaking the sticker, the other did not prevent access, as shown below. A seal is only as effective as the application of it: the bag should have been tied tighter before applying the label around the knot.
Update September 2, 2020: Just when I thought that California Fish Grill was the worst with their packaging, in today's take-out from J Zhou Oriental Cuisine, the tied bags were not sealed at all. In fact, one of the stickers was taped onto the receipt itself. Someone either was not properly trained or did not care.
Update December 30, 2020: One of my favorite restaurants, the DonerG Turkish & Mediterranean Grill, came up with a unique, secure way to protect their deliveries with what appears to be a sealer utilizing hot glue. It was pretty difficult to casually open the bags.
How I Feel About Grubhub
After two months of trying Grubhub, I concluded to never again support the company and its strong-arm tactics against businesses and diners. I was appalled to find:
Businesses possibly getting silently penalized for Grubhub's mistakes and having to bend to the company's unfair actions
Grubhub charging large commissions that force some restaurants to raise menu prices
Grubhub+ hiding the revocation of accumulated Cashback Rewards behind legalese terms only found on their website despite the cancellation email clearly stating that Rewards would not expire within 90 days
The delivery service may try to prove me wrong about how it does NOT unfairly treat businesses, but the fact they hid the Cashback Rewards cancellation in a deceptive way hits me on principle. No thank you, Grubhub. I will no longer support you and will scrutinize other delivery services more closely going forward. Whenever possible, I try to seek out a restaurant's own, online ordering system or one provided by ChowNow (or similar services) at a minimum.
How about you? Do you have any stories to share? Let us know in the comments!