Read:
4
mins.
Tough Mudder San Bernardino 2014
Rating: 5/5
18585 Verdemont Ranch Rd
San Bernardino, CA 92407
www.toughmudder.com
This was my second Tough Mudder, and with the 2014 season, new obstacles were introduced, as well as the TM Legionnaire designation for those having completed more than one event.
My 1st time was at SoCal Winter Feb 2013, a cold day that introduced hypothermia for one participant (and seeing many, including our team, working together to keep him warm until we reached the next medic station.) The cold was quite a challenge, and I am happy to say that doing this event on March 30, 2014 was a more fun, as-challenging, and safer day.
As with the last time, the event was one of the best-organized races I have participated in (I have a couple dozen half/full marathons under my belt.)
Fitness
Do you have to be fit? It certainly helps. Our team consisted of one individual who hardly exercises, a fit male, a young woman in her 20s and very petite, and myself — 37 years old with a bad back from a car accident who hasn't exercised for 13 months. We all cramped at the end of the event, but most importantly: we all finished TOGETHER, as a team. TM is about team work, mental toughness, physical endurance, and a bit of crazy.
Obstacles
The challenges were listed in a photo found on TM's Facebook page a few days before the event. Some pictures of each obstacle can be found on the ToughMudder.com site. I found it unfortunate that TM doesn't have a photo of EVERY obstacle on their site to help give participants a heads-up of what to expect, but that can also be part of the challenge — and partial fear — of the event. Whatever obstacle IS shown on their site, they all provide tips on how to do it at the bottom of its page.
Last year, we came across 3 electrically-charged obstacles, the 3rd one thrown in as a surprise we were not looking forward to. How do the shocks feel? Like a slightly-magnified version of a static discharge when you touch a door knob after walking on carpet for a while — except, you could feel it on your shoulder, head, butt, legs, and worst of all: your thighs. If that scares you, don't worry: you can skip them, but be prepared to be called out by the announcer, if you skip the Electroshock Therapy. Tip: tuck your head down so you see where you're going, and run as fast as you can. The shocks are pulsed — so, not every wire will zap. With that said, I was pleasantly amused that TM LA 2014 only had one electric obstacle this time around.
The other challenges simply require sheer will to keep going, and having a team very much helps to complete them. If you don't have a team, don't worry: there were plenty of participants who would help others out. The sense of community was very strong. For example, at the Berlin Wall, after I helped about 10 men and women over the wall, my thighs cramped, and I walked away trying to stretch them out. Little did I know, but two of the men I helped, they were still sitting on top of that obstacle, waiting to help ME get over it. They WAITED for me instead of continuing on with their team!
Event Day
Event opened on time at 9am, at which time we checked in. We showed our ID, signed waiver, and ticket, grabbed our bibs, wrote our number on our forehead, attached the bag number to our bags (Cost to check it in: $5, which goes towards the Wounded Warrior charity), and proceeded to the start line at our designated start wave.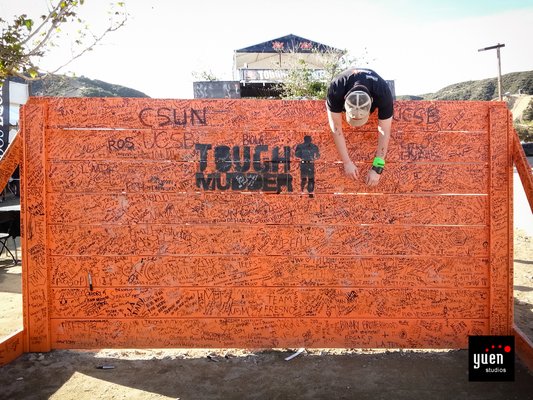 To get to the start line, you will first have to climb over a small wall. Once there, a ritual will be performed, and off you go. At the end, once you finish the Elecroshock Therapy, you will then proceed to the Finish line, get your TM Orange headband and your beer. They also gave a wrist band that you can then take to the Rewards tent to get your T-Shirt and Legionnaire headband (if you have completed TM a 2nd time or more.) You can then go shower off the mud, and to the Men or Women tent to change.
Course support. Volunteers and medics were found at every obstacle, and there were about 5 water stations dispersed throughout the tough, 10-mile course. From someone who has participated in running races, I was surprised at the small number of water stations available. Lack of water contributes to cramping, but I suppose that this contributes to the "toughness" of the event. You ARE, however, encouraged to bring your own hydration pack. Some stations also distributed banana, electrolyte chews, and protein bars.
The average person apparently finishes the course in 3.5-4 hours. We finished in 6 last year, and 4.5 this time.
Legionnaires had to complete 2 extra challenges, followed by Vesuvius, a fun water slide. Legionnaires have the option to skip Electroshock Therapy, but I chose to stick with my team of first-timers, and go through it with them. Legionnaires get additional, differently-colored headbands (green, blue, yellow, pink, black) based on the number of TMs completed.
A 70+ year old finished the race in his suit, his 10th TM challenge. We applauded him for his accomplishment.
As with both races, I had cuts and bruises on my arms, legs, and chest. This was FUN!